​
Bringing data to the fight for equity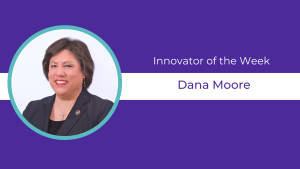 Title: Chief Equity Officer and Director of Equity & Civil Rights 
City: Baltimore
When Dana P. Moore was named Baltimore's Acting City Solicitor a few years ago, she became the first woman to ever serve as the city's top lawyer. But when you ask her, it was just as noteworthy when a successor, Ebony Thompson, was appointed to the position. "It doesn't really matter if you're the first," Moore says, "if there's not a second."
Now, Moore is Baltimore's first Chief Equity Officer. In that position, she's working with city agencies, boards, and commissions to appoint equity coordinators and creating training programs for them and teams to reverse disparities and eliminate discrimination. Her office is also building capabilities to analyze equity impacts of planned legislation and policy. 
Data is critical to that work, Moore says. That's why she and her team are  building an equity dashboard—to track the demographics of staffing and leadership across agencies. They're also digging into public safety data to better understand demographic trends in things like crime victimization, police response times in different parts of the city, and where police officers live. 
"We've heard forever that many police officers don't live in the city, and some don't live in the state—we're going to have an answer for that," Moore says. "And then: What is the narrative that comes from that? My mother always said, 'No one can tell your story as well as you.' We'll be able to tell the Baltimore story authentically and accurately with this data. That's very important."
Moore is among the senior Baltimore leaders who are participating in the Bloomberg Philanthropies City Data Alliance. They're ramping up the city's data capabilities across the board, while focusing specifically on ways to reform procurement practices so the city uses its spending to better drive equitable outcomes for residents.
For example, they're looking to break large city contracts into smaller ones that give women- and minority-owned businesses a better shot at winning. They're also stepping up outreach with these businesses and encouraging them to bid on city work, while picking up the pace at which the city pays vendors. "Municipalities have to do better about getting small local businesses paid," Moore says. "We have the data to show the huge amount of dollars owed to minority- and women-owned businesses, and in Baltimore we're changing how we do procurement and payout to address it."
A key challenge with procurement, Moore says, is deconstructing historic relationships between the city and incumbent vendors. "That's where you get resistance," she says. "It is clear that some procurement officers just go to the same people over and over and over. That's happened for decades. And that needs to change."
Moore's father, Frank E. Petersen, Jr., was the first Black fighter pilot in the U.S. Marine Corps, and later became the Marine Corps' first Black general. Moore says she shares a lot of his traits, especially his persistence. "It's very important to me—and now I really sound like him—we've got to understand the mission," she says. "If we don't understand the mission, we're not going to meet the goal. And having colleagues that are in line with the mission and working together is absolutely critical to me."
"I'm also willing to fight for what's right," she continues. "My father always said, 'Don't go to war until you know what the war is about.' That's something I think about often. There are some things that are just wrong, and we have to be willing to stand up and fight for what's right. And here, in a procurement context, it is wrong to keep doing the same thing over and over and not creating fresh opportunities for others. And I'm willing to fight for focusing our money in a different way."
Pro tip: "Don't be afraid to be different. It's your differences, your quirks, even your weirdness that we need to see this world differently and then change it for the better."