​
Borrow this idea!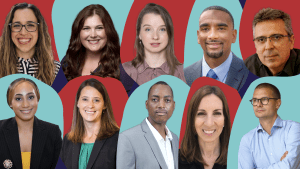 Spreading ideas is what we're all about at Bloomberg Cities. 
And it's at the core of so much of Bloomberg Philanthropies' Government Innovation programming for city leaders—from the replicable ideas emerging from the Mayors Challenge to the networks of mayors that form in the Bloomberg Harvard City Leadership Initiative to the global convening of urban innovators known as CityLab.
This we know: The more city leaders learn from each other, the faster they can innovate and the more ambitious they can be in solving problems and creating opportunities for their residents.
In that spirit, we asked 10 city innovators from around the world: What's an innovation you've helped develop in your city that another city should consider borrowing from you? 
Here's what they had to say.
Mikko Rusama, Helsinki | María Calusio, Buenos Aires | Krystle Lindberg, Providence | Musawakhe Khumalo, Tshwane | Luiz Saboia, Fortaleza | Jeff Barton, Phoenix | Karen María Jónsdóttir, Reykjavik | Becky Gross, Los Angeles | Stephanie Betteridge, Bend | Alex Smith, Memphis
Simplifying pre-school enrollment
We used SMS messaging to offer 5,591 parents preschool placement for their 6-year-old children, eliminating the need for them to fill out any forms. Ninety-three percent of parents responded and 89 percent accepted the offer. This transformed a two-month application process into one where confirmation was given in just a few minutes. In this way, cities can flip the service-delivery model around—from "pull" to "push"—by anticipating residents' life situations. Technology is not necessarily the bottleneck: SMS is simple. Regulatory issues need to be tackled. A valid legal basis for data processing is needed. And challenging and changing old ways of working requires strong support from the top management.
Incentivizing kids' healthy choices
Since the beginning of 2022, we have been working with Bloomberg Philanthropies to adapt the Juntos Santiago program from Santiago, Chile, to our local context. The program turns healthy eating and exercise into a game for children. Our version is called "Healthy School Communities," and it also is one that other cities could borrow. We are currently working with 40 schools in the city and expect to reach more than 5,000 students. We have adjusted the original program from Santiago in two ways. First, we adapted the online components of the gamification strategy to on-site activities: Each participating school receives resources and materials and appoints a "Health Ambassador" in charge of delivering games and workshops. Second, we developed measurable indicators and streamlined the data collection mechanism to monitor progress. In the future, we hope to reinforce the gamification strategy with rewards to create additional incentives for the educational community. These innovations are helping us expand the number of interventions, reach more beneficiaries, and use data to prioritize and problem solve. 
Keeping the city on budget
The city of Providence worked with What Works Cities and the Government Finance Officers Association—through Bloomberg Philanthropies' City Budgeting for Equity and Recovery program—to build a fund-balance policy and risk model to buffer against risks like revenue shortfalls or unexpected expenses. The first step was to build a 10-year risk model using statistical data dating back to 1950, as well as 19 years of financial data. Once built, the model was used to determine the appropriate range of reserves the city should maintain. The final policy language incorporated the required range of reserves, financial best practices, and an equity lens. Here are two lessons we learned: The first is the importance of data maintenance and integrity. Cities and towns differ from traditional businesses in that they exist in perpetuity and serve the public.This project would not have been as impactful if my predecessors had not prioritized data maintenance and technology improvements.The second is that equity should be a priority for any project or task that a city is working on—even something that seems as simple as a financial policy. 
Digitizing development
The city of Tshwane implemented an online platform that enables residents to submit land development applications electronically through the E-Tshwane portal. The system replaces the tedious and time-consuming manual processes that were in place for quite a long time. Turnaround time for processing applications has improved significantly, customers no longer need to travel to submit applications or check on the status, and data capture errors are eliminated, reducing the number of applications that get rejected. Successful implementation of solutions like these requires focus on change management, as it completely changes the way of working for the officials. Integration with existing systems is also key as the system interfaces with other internal applications such as payments. Lastly, marketing of the implemented solution is important to foster adoption by the public. 
Building low-cost microparks
In 2021, the city of Fortaleza started to transform degraded lands into urban microparks with plantings, play spaces for children, and improved sidewalks and lighting.This has become a low-cost and fast means to provide people in vulnerable neighborhoods better access to quality public spaces and nature. About 18,500 low-income people have benefited from the implementation of the first two microparks. In addition, more than 10,000 square meters of land where people used to dump trash have become community meeting places. Residents were engaged in the project from the beginning, and their observations shaped the proposal and implementation. After delivery, a community council was created for maintenance of the space.This contributed to the sense of belonging of the local community and was essential to the success of the project. 
Projecting city priorities and progress
We recently launched a new City Manager's Performance Dashboard, which is a tool that provides the public easy-to-access and easy-to-understand information on more than 130 key performance indicators around the priorities of all 28 city departments. We also show historical perspective on how we've performed in the past.There are two goals: One is to foster greater transparency in government and the community. The other is about holding us accountable for the services that we're expected to provide, and to provide them in a timely and efficient manner. Residents can use the dashboard to see how we're performing on public safety response times, parks utilization, library utilization, and other services—and to advocate for more services. It's also a way for our staff to tell the story about how well they're doing. 
Creatively engaging your legal team
You've got to have a creative legal team when you're trying to create digital services that have to be compliant with Europe's General Data Protection Regulation. But law school's don't typically place a lot of importance on creativity, so we tried a different approach: We're providing creative trainings to strengthen our legal team's creative muscles and build their capacity to generate innovative ideas. Now we're incorporating their work into a number of projects, including the digitalization of the financial aid process, the development of school support services for children and families, and the primary school enrollment process. By integrating them into the structure of our design teams, they've become a creative partner during the research process, ideation, programming, and launching a final product that ultimately ensures every resident's digital civil rights are protected.
Creating affordable senior housing
Older adults with limited income are less likely to keep pace with rising rental rates, leaving many at risk of becoming homeless. To keep older Angelenos safely housed, the LA ADU Accelerator Program— which was a winning idea in the 2018 Bloomberg Philanthropies Mayors Challenge—pairs them with homeowners willing to rent their accessory dwelling units—these are small houses, typically located in a homeowner's back yard. Tenants pay a portion of the rent, and the city provides a subsidy, making the unit affordable, but also profitable for homeowners. Since the program's first match was made in December 2020, it's housed 32 older adults in 25 ADUs.  As we work to establish a bridge housing program that can prevent homelessness, we've learned three key lessons along the way. First, make government services people-centered and accessible. Through our focus on design, data, and behavioral science, we built a program that is user-centered, transparent, responsive, and easy to navigate. Second, having program champions is key. This is a set of city leaders committed to being adaptive and open to iteration to grow and scale the work. Third, partner with experienced service providers. Select organizations that have a deep understanding of the target population and extensive networks in the community.  
Returning to work after COVID
As COVID-19 measures eased, instead of a "return to office" plan, we took a broader approach to develop a Future of Work vision and action plan. Using human-centered design tools, we engaged a cross-section of staff at all levels to help us understand what is important to them, what they have, and what they need. This work resulted in a diverse set of initiatives, including a hybrid and flexible work environment, professional development opportunities, supervisor training program, a mentorship program, and a City Manager quarterly road show. Employees have shared they are feeling heard, valued, and are better informed. We are in the process of gathering the data to confirm that employees are utilizing their benefits more and retention has improved. For cities looking to roll out a similar plan, solutions are not one-size-fits-all. You need a variety of options to meet the diverse needs of your workforce. At the same time, don't overlook existing services, policies, and programs. Build on what's working and adjust what's not. Finally, communication and transparency are key!  It's important to open the curtain and let everyone see, and contribute to, the development of new programs and policies. We can't deliver the high-quality services our community needs and expects if we don't have an engaged, resilient workforce.
Growing the city's employer brand
Social media platforms are constantly changing, and new trends arise every day that cities can utilize to meet their goals. The city of Memphis created a digital team to focus on growing our employer brand and talent network through online platforms in an unconventional way. We attribute their success to a fun focus on employee impact, service, and culture instead of traditional job advertisements. First, the team has great success in communicating with constituents through platforms like LinkedIn and Facebook. Most notably, there has been excellent engagement and response to their Instagram Reels, which have gained over 350,000 views in the past 6 months. Secondly, a new weekly newsletter was established, which is now sent to over 44,000 previous applicants, interested candidates, and community partners. It highlights new job opportunities, hiring events, incentives, and stories about impactful employees. We've learned that our city's culture sells, and with some creative thinking, taking advantage of social media trends quickly can earn cities invaluable exposure. Job seekers are looking for an opportunity to make a difference, and we believe there's no better place to do that than city government.
Have an idea that another city leader should borrow from you? Tweet us about it @BloombergCities