Boosting citizen engagement through human-centered design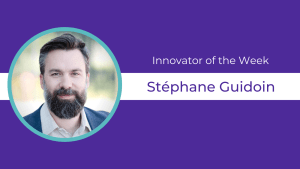 May 19, 2021
Name: Stéphane Guidoin
Title: Director, Urban Innovation Lab
City: Montreal
For Stéphane Guidoin and his colleagues at the Urban Innovation Lab in the city of Montreal, a key component of devising strategies to boost citizen engagement is simply making interaction with city government easy and productive—even pleasant.
Guidoin heads a diverse cross-functional team of 12 leaders from 10 city departments, who have been using their participation in a larger Bloomberg Philanthropies innovation training program to help draw in residents to test, adapt, and scale creative and lasting ideas.
Citizen engagement was one of four key pillars identified in a recent Montreal city government planning initiative, and Guidoin's team used the expertise they've developed in human-centered design to find ways to give residents clear and productive channels through which to communicate with their city.
The innovation training gave team members tools to engage citizens in a more open and deeper way, Guidoin said. "What the training brings us is [questions like] 'What are your values? What do you need?' " he said. "Even if they give us all the ideas they want [in a long list], they will also give us more in-depth information … that's helpful in unexpected ways."
One specific tool that emerged from the team's work was to begin building an "advanced 311" initiative to enable residents to use the familiar 311 tool as a vehicle to share longer-term ideas and collaborate with the city—not just report that a pothole needs to be filled. "It's a concierge approach where someone with a good understanding of the city…could guide those people willing to start an initiative, help them to mobilize other people, and reach out to relevant organizations and [city] departments," Guidoin said.
The experience has underscored for Guidoin that people will show up when asked to provide input and be part of the solution. "The big outcome for us is to have a defined process that we know we can replicate," he said. "That's what the training brought us."
Pro Tip: "We expected more cynicism, but residents do care. It's really a question, for them, of providing the right place and the right way to participate."