​
Baltimore scales up contact tracing by putting jobless residents back to work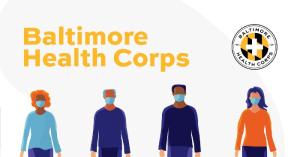 At a time when many cities are having to lay off or furlough workers, Baltimore is flooding job boards with 300 new positions that need to be filled.
The postings themselves are a sign of the COVID times: contact tracer, care coordinator, and others to scale up the community-health response to COVID-19. The jobs are open to unemployed Baltimore residents, many of whom lost their jobs amid the pandemic. And in a city where nearly two-thirds of the residents are African American, the plan is to hire a team that looks like the people they'll serve.
The new hires will form something called the Baltimore Health Corps. It's an ambitious response to the challenge cities everywhere face in scaling up their public-health capacities to "box in" COVID-19. Part of it is building an army of contact tracers to investigate case histories of people who are sick and identify close contacts they may have exposed to the novel coronavirus. Another part is coordinating care for the sick, as well as supports such as food, housing, or medicine for those who must isolate or remain in quarantine. At the same time, the program is seizing an opportunity to put some of Baltimore's newly unemployed into good jobs with a chance for career growth.
The project is a product of a collaboration of multiple city departments, including the city's health department and workforce development agency, as well as several nonprofits and foundations. And it was catalyzed by the city's innovation team, an in-house group of innovators that helps the city solve problems in new ways. "Baltimore Health Corps is a good example of how innovation teams can bring partners together to make an impact that's bigger than any of them could achieve on their own," said Stephanie Wade, who manages the innovation teams program at Bloomberg Philanthropies. "Teams in cities across the country are showing how cities can step up in the pandemic to quickly address emerging needs like this and make a big difference."
[Get the City Hall COVID-19 Update. Subscribe here.]
While the Baltimore effort is just getting going, there's a lot that other cities who are building their own contact-tracing muscle can learn from how Baltimore and its partners have structured it. We spoke with several leaders involved in the effort last week to hear what lessons they'd offer other cities.
1. You can "kill two birds with one stone." At a time when city leaders have their hands full with wicked problems, Baltimore found a formula to make progress on two of them — unemployment and building public-health capacity — at once. "We took the opportunity to design a program that simultaneously addresses multiple challenges," said Dan Hymowitz, Director of the Mayor's Office of Performance and Innovation. "Despite all that's happening, or maybe because of all that's happening, there is a chance to use the moment to try new things."
2. There's tons of talent to draw on. More than 50,000 people in Baltimore lost their jobs over the past few months. Organizers expect as many as 6,000 of them to apply for these 300 positions. Most of the initial requirements are non-technical skills like being able to communicate clearly, show empathy, solve problems, and handle confidential information with discretion. As Shelly Choo, Chief Medical Officer with the Baltimore City Health Department, put it: "The core principle of what makes a great community health worker is that they're a trusted member of the community."
3. Put equity front and center. Organizers crafted these positions to be inclusive; no college or high school diploma is required. Nor is health experience — while that's a plus, experience in other public-facing jobs, such as customer service, is also welcome. The screening process will allow for some candidates whose resumes don't immediately rise to the top to attend a group interview, and if they perform well, move on to the next stage. Hires will be given mobile phones, so that a lack of internet access at home — where they'll be working from, mostly — isn't a barrier. "We wanted to make sure these jobs are available to a wide range of people," said Rachel Brash, a strategist at the Mayor's Office of Employment Development.
[Read: 3 things mayors can do to build an army of contact tracers]
4. Think long term. While these positions are temporary roles lasting for 8 to 12 months, the intent is to provide people a launch pad into healthcare careers. In addition to extensive training at the beginning of their employment, hires will have "career navigators" they can talk to about their individual career goals and help identify opportunities for their next job. "The simplest contact-tracing program would probably be just 'hire-and-fire,' or we'd bring in a staffing company," said Brendan Hellweg, data lead for the Baltimore Innovation Team and the program's project manager. "This is more like a full curriculum aimed at cultivating careers."
5. Partnerships are critical. Baltimore's model is built on numerous partnerships among city agencies, community partners, and foundations. A nonprofit called Baltimore Corps is handling much of the recruitment, and an affiliate of Johns Hopkins University called Jhpiego will do much of the contact-tracer training. "We've never had to hire this many individuals at this fast pace," Choo said. "An endeavor this large could not have happened just by the Health Department itself. It really does take everyone."