6 global mayors on how they're transforming government in the digital age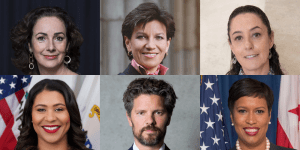 June 30, 2021
When COVID-19 hit, city leaders didn't miss a beat. Practically overnight, they transitioned much of the public workforce to telework and turned face-to-face services like business permits and licensing into digital offerings. 
Now, as cities turn toward recovery, they face a different challenge: take what they learned from the crisis to accelerate digital transformation even further.
That's a big reason why Bloomberg Philanthropies this week announced new partnerships with six global cities to boost their local governments' digital innovation capacities. These cities, Amsterdam, Bogotá, Mexico City, Reykjavík, San Francisco, and Washington, D.C., will receive three-year grants to fund innovation teams who are focused specifically on leveraging data and digital technologies to enhance public services.
"These six cities are already raising the bar for innovation in the public sector," said Michael R. Bloomberg, founder of Bloomberg LP and Bloomberg Philanthropies and 108th mayor of New York City. "This investment will help supercharge their work to bring city services into the digital future [and] deliver better results for residents."
Another critical component of this partnership: Regularly sharing key insights and learnings from these cities with other city leaders. That sharing began Tuesday, as the mayors of these six cities spoke with Bloomberg Philanthropies' James Anderson about the critical role of digital innovation during the pandemic and the opportunities ahead. Here's what they had to say.
"A city in which our digital rights are protected." Digital transformation is nothing new in Amsterdam, which pioneered a push to get residents online in the earliest days of the internet. What's changed, said Mayor Femke Halsema, is the consolidation of digital platforms into the hands of a handful of commercial providers—a trend she says is eroding the public's trust. Halsema's hope is to reassert public values in the tech landscape in a way that protects her residents' digital rights. What that will mean is "that we've created a safe digital public space as the standard for all our citizens," she said, "so that every Amsterdammer can benefit from the possibility of digitization...and live in a city in which our digital rights are protected."
"Residents are used to it, so let's capitalize on it." Washington, D.C., Mayor Muriel Bowser said her city's data-driven response to COVID-19 can be the model for other priorities like boosting affordable housing or retraining workers. "If we know what to monitor, what metrics to follow, how to turn up or turn down the interventions, and then measure the impact on outcomes—that's the model for government," Bowser said. Another lesson: Data can be a valuable communication tool for mayors. "Talking daily to our residents about what the numbers say, what the numbers mean" sends a powerful message, she added. "We shouldn't lose that 15 months of talking to people about data and numbers in government interventions. Residents are used to it, so let's capitalize on it."
"We developed most of the software and applications ourselves." In a time when governments outsource many of their technology initiatives to private-sector partners, Mexico City is taking a different approach, Mayor Claudia Sheinbaum said. The city, which has one of the most sophisticated digital infrastructures in the world, also has hired a deep bench of data scientists, user-experience designers, and other talent to build apps that millions of residents are using to take care of city business and even to hail taxis. "We stopped contracting private licenses," Sheinbaum said, noting that having this in-house capacity helped the city move faster during the pandemic. "We developed most of the software and applications by ourselves in the city with the young people that come from the public universities."
"Data helped us make the right decisions." San Francisco is another city with deep data and digital expertise that paid off during the pandemic, said Mayor London Breed. The city's Digital Services Team shifted to moving in-person services online, while the data scientists in the DataSF office built dashboards showing changes in caseloads, PPE distribution, vaccination rates, and more. Breed cited the data team's work in identifying racial and geographic disparities as critical. "Early on, we heard about disproportionate impacts in our Latino community, and the data we collected and analyzed backed this up," she said. "This helped us quickly focus our efforts and dedicate resources and energy to this community. It helped us build partnerships with leaders and community organizations on the ground. And thanks to this work and those partnerships here in San Francisco, over 70 percent of the Latino community has been vaccinated. A lot of people deserve credit for that, but having the data really helped us make the right decisions and dedicate the resources where they were needed the most."
"We're going to train our public servants." Bogotá Mayor Claudia López laid out a number of digital priorities for her city, from improving traffic management to boosting business opportunities for informal workers. While Bogotá already has strong in-house data analytics and innovation capacity, the city aims to broaden those skills across the local government workforce. "We're going to train our public servants in digital capabilities and analytical capabilities to take advantage of all the IT tools," López said. The goal is not only to deliver better services, she said, but "to improve transparency and accountability in Bogotá's open government."
"We have the residents with us in this." In Reykjavík, Mayor Dagur Eggertsson has pledged to meet the ambitious goal of digitizing 100 percent of the city's services. "It's about making citizens' lives easier," he explained, citing a survey showing that three in four residents seeking welfare services wanted to do so through digital channels. "We have the residents with us in this." In the future, Eggertsson hopes digital government will function so seamlessly for residents that they won't even think about it. "I really want this thing to be forgotten," he said—"just as we have forgotten why the water comes out of the tap or electricity out of the wall. Everything that works we tend to forget."