​
10 of the top moments from CityLab 2021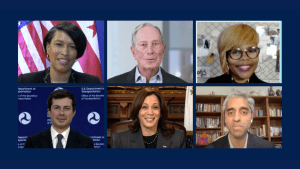 CityLab has always been a critical time for urban-minded leaders to connect with each other and share their best ideas for cities. But this year, in the wake of COVID-19 and its ensuing crises, it was more vital than ever. CityLab 2021 included participants from 40 countries and insights from Vice President Kamala Harris, Bloomberg Philanthropies founder and former New York City Mayor Michael Bloomberg, and city leaders around the world, including the four co-host cities of Bogotá, Freetown, Helsinki, and San Francisco. Here are 10 of the most memorable moments from the conference.
1. Vice President Harris calls for creativity
Vice President Kamala Harris called on those gathered for CityLab 2021 to continue their drive for "ground-up, human-centered, evidence-based ingenuity" to both beat back COVID-19 and to address the racial and economic disparities laid bare by the pandemic. "I was a city leader in San Francisco, and I know what's needed in our cities." said Harris, who served seven years as that city's district attorney. "Your job is to solve problems as creatively as you can. And the job of leaders, like President Biden and myself, is to help scale the best of those solutions…. We can build that future through innovation. We can build that future together." (Watch Vice President Harris' full remarks here.)
2. Investing in bold and diverse city leadership
On Tuesday, Mike Bloomberg announced two major new philanthropic investments that he said will "help mayors and city leaders pursue big ideas and get big things done." The first is a $150-million commitment to Harvard University to create a university-wide Bloomberg Center for Cities. The new center will be dedicated to strengthening mayors and their teams, building on the success of the Bloomberg Harvard City Leadership Initiative. The center also will include a new fellowship program for Harvard graduates to go to work in cities and endow 10 new professorships for scholars and experts focused on city problem solving. 
The second commitment is a $25-million partnership with New York University to create a two-year leadership program focused on training a diverse and talented group of students for careers in public service. The program will use New York City as a classroom for understanding municipal systems and the nonprofit organizations that support them and offer scholarships for students in need. "That's really important," said Bloomberg, the former mayor of New York City and founder of Bloomberg Philanthropies. "Because strengthening city leadership means diversifying city leadership in every possible way." (Watch Mike Bloomberg's full announcement here.) 
3. Uplifting mayors' bold leadership
CityLab always starts with a bang, whether it was a high-flying feat from Streb Extreme Action at CityLab Paris, a Motown medley from the Detroit Youth Choir at CityLab Detroit, or a heart-pumping performance by Step Afrika! at CityLab DC. And this year, the first-ever virtual CityLab, was no exception. To kick it off, mayors from dozens of cities around the world collaborated on videos emphasizing the importance of local leadership and the innovative spirit of their cities. "We need CityLab this year because the virus knows no borders, so neither should we," explained Stockholm Mayor Anna König Jerlmyr. And, as Oakland, Calif., Mayor Libby Schaaf added, "We need CityLab this year because just as we're telling our communities we'll get through this together, we must get together."
On Tuesday, Washington, D.C., Mayor Muriel Bowser rallied city leaders to finish strong in the fight against the coronavirus, noting the loss of her sister just last week. "As somebody who has been fighting the virus, leading an American city, trying to keep people alive, it's been especially hurtful," Bowser said. "So I just want to remind everybody: It's not over. We have to continue to fight the virus, and do all of the things the public health officials tell us to do so we can crush it and get back to our lives." (Watch the full conversation with Mayor Bowser here.)
Bolstering the capacity of mayors to lead through difficult times was also part of the agenda. Seventy mayors met Monday for the Mayors Innovation Studio, where economist Mariana Mazzucato challenged them to meet today's moment of crisis with transformational change. Mazzucato, author of the new book "Mission Economy: A Moonshot Guide to Changing Capitalism," discussed how mayors can take lessons from the Apollo mission and apply them toward raising the ambitions of what city halls can achieve in partnership with businesses, nonprofits, universities, and other local actors. 
4.

Bright spots from co-host cities
(Above: Welcoming CityLab to Bogotá)
This year's CityLab was co-hosted by four cities on four continents—each with a compelling story to tell about how they confronted the crises of 2020 and are now driving toward recovery. Mayors from each of these cities were featured throughout this week's program, as they introduced attendees to their city and its standout achievements over the past year. Check out the videos from Freetown, Sierra Leone, Mayor Yvonne Aki-Sawyerr; Helsinki, Finland, Mayor Jan Vapaavuori; and San Francisco, Calif., Mayor London Breed; and Bogotá, Colombia, Mayor Claudia López Hernández
5.

Opportunity for an economic reset
If there's one good thing to come out of the COVID-19 pandemic, it's that "it created a tremendous opportunity to right historical wrongs," said Mary C. Daly, president and CEO of the Federal Reserve Bank of San Francisco. "It's so big that we can't look away." Daly joined Chicago Mayor Lori Lightfoot and Ai-jen Poo, executive director of the National Domestic Workers Alliance, for a conversation, moderated by Boston College's Lourdes German, about the possibilities of the new urban economy. "The pandemic has really disrupted everything about the way we live, work, and care," Ai-jen Poo explained. "And it creates this opening for us to address the [inequities] that have now been revealed. (Watch the full conversation here.)
6. Planning a post-COVID future
Could the pandemic shape cities in positive ways? Dr. Carlo Ratti of MIT's Senseable City Lab thinks so. Lockdowns and social isolation, he said, have demonstrated how vital it is for cities to create quality public spaces for people to meet safely outdoors. The same is true of parks and nature, said the architect Sir David Adjaye. "If you took for granted a park," Adjaye said, "you now realize it's a very important part of the quality of life you have in the city." And Reuben Abraham of the IDFC Institute in Mumbai noted potential long-term benefits if behavior changes sparked by COVID-19 can be sustained. "Tuberculosis kills 1,400 people a day in India," Abraham said. "If there was a way to embed mask wearing as a behavior anytime you're in a crowded space, that could have an effect on tuberculosis...and see a very positive turnaround in the fate of cities across the developing world." (Watch the full conversation here.)
7. Questioning the '15-minute city'
The urban planning world is buzzing about an idea from Paris — the concept that urban dwellers be able to access all of their work, shopping, health care, recreation, and other needs within a 15-minute walk of home. What's powerful about the idea, said Dan Hill of the Swedish government's innovation agency, Vinnova, is the focus on peoples' relationships, needs, and desires—although it runs the risk of turning into a top-down tool that makes social inequities worse rather than better. That's placemaker Jay Pitter's concern with the 15-minute city idea. "It does not take into account histories of urban inequity intentionally imposed by technocratic and colonial planning approaches, such as segregated neighborhoods, deep amenity inequity and discriminatory policing of our public spaces," Pitter said. "It doesn't meet the moment. We're looking at a model from Paris and proposing that we impose that model on cities that have evolved in very different social and spatial patterns." (Watch the full conversation here.)
8. How to build a more just city
As cities take on racial justice with more urgency, they should be wary of creating "one-size-fits-all anti-racist change," said Dr. Ibram Kendi of Boston University's Center for Antiracist Research. "Cities are not a monolith, and majority-Black cities are not a monolith. The types of policy reforms or transformative changes that are needed in every city are going to be different."  Mayor Chokwe Lumumba said that in his majority-Black city, Jackson, Miss., the change needed is to share power so that residents can gain self-determination over city problems, right down to filling potholes. "What we ultimately teach them is that the pothole was never your problem in the first place," Lumumba said. "Your problem is that you don't control the decision-making process that leads to a pothole getting fixed." (Watch the full conversation here.)
9. The keys to rebuilding public trust
A lack of public trust in government is hindering everything from compliance with facemask mandates to peoples' willingness to get the COVID vaccine. Dr. Vivek Murthy, President Biden's pick for Surgeon General, said rebuilding that trust will require listening carefully to people's concerns rather than dismissing them. Dr. Kelly Henning of Bloomberg Philanthropies agreed: "We have lots of answers in public health but we don't have lots of listening," she said, calling on public leaders to "double down on engagement." Newark, N.J., Mayor Ras Baraka said city leaders who weren't doing this already before the pandemic have a lot of catching up to do. "We need to be talking to the community as much as we possibly can...and not trying to push things on people," Baraka said. "There's an urgency to get people vaccinated, and I have the same urgency, but we also have to take into consideration history and broken relationships and you can't rush that." (Watch the full discussion here.)
10. Mayor Pete goes to Washington
U.S. city leaders at CityLab were excited to see one of their own speak in his new role as U.S. Secretary of Transportation. Pete Buttigieg, the former mayor of South Bend, Ind., said he would bring a "mayor's-eye view" into a federal agency that cities rely on heavily for funding and guidance. Citing changes he made as mayor to add bike lanes and sidewalks to streets and slow cars down, Buttigieg said it helps to have an ally in Washington. "The idea that you would do anything to a road other than widen it...took a lot of pushing locally," he said, noting that the Obama administration helped smooth the way. "Having benefited from that during my time as mayor, I'm very mindful of some of the things we can be doing." (Watch the full conversation with Secretary Buttigieg here.)