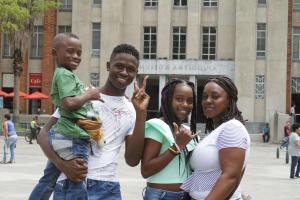 Medellín promoted financial inclusion.
THIS PROJECT CAN HELP YOU ADDRESS:
• Resident lack of access to the formal banking system
• Reliance on loan sharks with risks of violence
• Low levels of financial literacy
• Lack of community cohesion amongst low-income residents
THE PROBLEM
Almost 320,000 disadvantaged people in Medellín have no access to the formal banking system and, instead, take out illegal loans connected to organized crime. Illegal loans, called "pagadiarios," subject the city's poor to a stubborn circle of poverty, charging interest rates of up to 20% monthly. This corrupt system uses violence as a collection tactic, targeting those who are the most marginalized from the financial system.
THE SOLUTION
Bancuadra, "the world's smallest bank", provides low-income residents with access to credit and financial education, with no complex procedures or requirements to join. Bancuadra is innovative because it uses community trust as collateral. Networks are created by people who know each other and are available to serve as guarantors of loans. By doing so, the system reduces asymmetry of information between lender and borrower, providing financial access to many more people at affordable rates. The program also provides critical financial education to users, giving them access to best practices in money management.
THE IMPACT
Over 22,000 loans distributed to 13,600 users
58% reduction in the use of loan sharks
6 p.p. increase in the probability of participant savings
13 p.p. increase in participants reporting improved economic conditions
DOZENS OF CITIES ARE PUTTING THESE IDEAS INTO ACTION
Learn more about other Mayors Challenge-winning programs.