Working an encore career in city innovation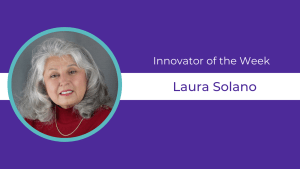 March 9, 2022
Title: Chief of Staff
City: Pueblo, Colo.
When Pueblo voters elected Nick Gradisar mayor in 2019, following a change in the city charter, he became the city's first mayor in decades. One of the first things he did was talk Laura Solano out of retirement to be his chief of staff.
Solano, following a long career as an IRS agent, community college leader, and head of the Colorado state lottery, had already bought golf clubs and was ready to travel, she says. The opportunity to work alongside Gradisar and to serve residents of the city where she was born and raised pulled her back into the office.
That summer, Solano began an executive training program offered to senior city leaders through the Bloomberg Harvard City Leadership Initiative. She later participated in Bloomberg Philanthropies' City Budgeting for Equity & Recovery program, aimed at helping city leaders address fiscal challenges and racial inequities in the wake of the pandemic. One of her key takeaways from both was the power of community engagement. "To connect with what the people need, you've got to go to the people," Solano says. "That stuck with me."
Pueblo put those words into action when federal aid dollars began flowing to cities through the American Rescue Plan Act. To get ideas for how to spend the money, city leaders held a series of town halls, including one directed at the city's youth, who were given an extraordinary opportunity to help shape priorities around spending the city's $37 million allocation.
Out of that came a signature program to address student learning loss due to the pandemic: Reading Pays. Children who picked out ten library books last summer — and wrote a report or made a drawing or video about one of them — earned $100. Solano added a kicker to promote financial education: Readers who put the money into a savings account could earn an extra 10 bucks. More than 7,000 youth participated — five times the number who typically sign up for the library's summer reading programs. 
"It was a complete success," Solano says. "The library would love to do it again."
Pro tip: "The spark comes from the mayor, but the hard work and the service comes from the team."