​
When city and state leaders don't see eye-to-eye on 'shelter in place'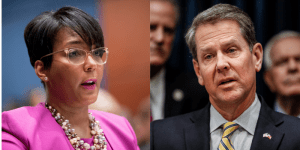 When Atlanta Mayor Keisha Lance Bottoms went on CNN last week to talk about the stay-at-home order in effect in her city, she pointed to a problem with fighting Covid-19 that many of her fellow mayors can identify with.
Atlanta's order directly impacted only about half a million people, she said — out of a metro area roughly 12 times that size. "If I were to walk out of my front door not even a half an hour, I would be in another city that has different standards," she said. "It's my hope that at least the mayors of the surrounding cities will follow suit so we can have some consistency."
Several did. DeKalb and Gwinnett counties later issued stay-at-home orders, as did a number of other Atlanta suburbs. The local measures pushed farther than Georgia's state government has gone to impose social distancing. Still, the approach in Georgia remains a fragmented one, and Bottoms and other mayors have called on Governor Brian Kemp for a consistent statewide policy. While Kemp has publicly supported the city and county efforts, an aide the governor has said he believes local governments are "overreacting."
Across the country, more than 250 million Americans are currently living under measures known as "stay at home" or "shelter in place" orders. The temporary measures are intended to slow the spread of the coronavirus that causes Covid-19 by keeping residents, with a few exceptions, hunkered down at home. Yesterday, the governors of Maryland and Virginia joined Washington, D.C., Mayor Muriel Bowser in announcing mandatory measures to this effect.
[Get the City Hall Coronavirus Daily Update. Subscribe here.]
While statewide orders are creating consistent approaches in 31 states, a patchwork approach exists everywhere else. States such as Texas and Maine have left it to local governments to decide whether or not to issue such orders; meanwhile, Mississippi has preempted cities from issuing one, and South Carolina's attorney general has said cities have limited powers in this area. Florida Governor Ron DeSantis has resisted mayors' calls for a statewide order but yesterday announced one just for the four populous counties in the southeastern tip of the state. Six states, including Arkansas, Iowa, Nebraska, Nevada, and the Dakotas have no mandatory orders in place at the state or local level.
While stringent local measures are better than nothing from a public health perspective, fragmentation presents its own problems. "Different types of orders in the same region send mixed messages," says Dr. Josh Sharfstein of the Johns Hopkins Bloomberg School of Public Health. "One danger is that many people will prefer the softer message and wind up less likely to take action to reduce their contact with others. Another danger is that people in the city come to believe that it's fine to have contact with others in surrounding areas and wind up bringing Covid-19 back home."
That's why many mayors are calling for a more consistent approach, with city leaders in Florida, Iowa, Wyoming, and others asking their governors for statewide orders. In Arizona yesterday, Governor Doug Ducey issued a stay-at-home order after mayors of Phoenix, Flagstaff, Tuscon, and six other cities wrote a letter to "fervently urge" him to take that step.
"Our efforts are only as good as the efforts of those around us," Salt Lake City Mayor Erin Mendenhall tweeted last week while calling for the state of Utah to issue a stay-at-home order. When a voluntary statewide order came on Friday, Mendenhall said she supported it even as she enacted a tougher mandatory order for her city. "This is the right thing for the people of Utah," the mayor said in a video posted to Twitter. "Just like air quality, Covid-19 doesn't respect jurisdictional boundaries."
Sharfstein counsels that mayors facing fragmented regional approaches step up their advocacy. "Mayors in this situation should actively explain the logic and evidence behind their actions to city residents," he says. "Ideally, mayors can make these statements in concert with other credible city leaders and local health care experts. Mayors should also work to convince leaders at the state level, as well as leaders of surrounding jurisdictions, about the very real risk that an overwhelmed healthcare system would pose to the well-being of residents in their county."
Anita Cicero, with the Johns Hopkins Center for Health Security, agrees. "My advice to the mayors (with stay-at-home orders in place) would be to stay the course," she says. "They are doing the right thing to protect the populace."
For further reading:
What's the Difference Between Shelter in Place, Safer at Home, and Stay Home Orders? (National League of Cities)
See Which States and Cities Have Told Residents to Stay at Home (New York Times)
What is and isn't allowed during a 'shelter in place' order? (CNN)