​
Using human-centered design to help solve food insecurity in Glendale, Calif.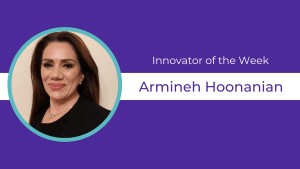 Name: Armineh Hoonanian
Title: Administrative Analyst, Community Development Department
City: Glendale, Calif.
In her 28 years working for the city of Glendale, Armineh Hoonanian has worked in the legal, housing, community services, and parks departments. Her current position in community development, where she oversees licensing and compliance, gives her a chance to bring all that experience together.
As part of a project that came out of the city's participation in the Bloomberg Harvard City Leadership Initiative, Hoonanian partnered with about a dozen colleagues from across city government, including some agencies she's worked at and many others she hasn't. Their goal: Combine forces to address a critical problem and prototype some possible solutions.
The group chose to focus on food insecurity, inspired partly by the passage of California SB 1383, legislation aimed at reducing the amount of organic waste disposed in landfills. That law sets a goal of rescuing at least 20 percent of edible food that's currently thrown out and redirecting that food to people in need by 2025.
The group split into three teams and conducted a series of interviews with nonprofit groups that obtain and distribute food, businesses in the city that have leftover food, and residents who are food insecure, including seniors and shelter residents. The human-centered design training received through the Bloomberg Harvard process provided key insights, Hoonanian says. "I've been able to use the techniques to look at our operations and analyze what are the other ways of being able to do it. I was able to talk to and observe our staff to know what we could do differently, and better," she says.
Overall, the group found that food distribution works pretty efficiently and effectively in Glendale, Hoonanian says. The teams debriefed each other and then presented to city executives and the city council. "We're pretty much in a good place," she says. "We found out that people looking for food had the ability to find food." The teams are developing a citywide food resource map to show where resources and needs exist in the community.
Next, Hoonanian and several of her colleagues will get a chance to brief middle- and upper-level managers on what they learned about how human-centered design methodologies can promote a more innovative way of doing business in Glendale. "We are preparing to share it with all of our employees, so they'll be able to use the techniques we've learned for their daily jobs," she says.
Pro tip: "Don't give up. You may hit roadblocks, but if you continue working as a team you can accomplish big things."