Tracking the breadth and depth of COVID response in U.S. cities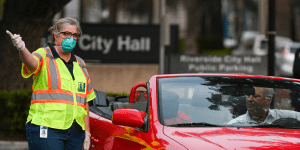 August 8, 2020
As COVID-19 started to spread across the United States in March, mayors and other local leaders were quick to respond by invoking local emergency powers and shutting down their cities. Bloomberg Cities, in partnership with the National League of Cities, has been cataloguing the breadth and depth of the response in America's cities. Below are trends from our data, which were highlighted further in this piece for The Hill. The following analysis is based on the 100 largest cities in the U.S. by population.
Declaring local emergencies
The first action local leaders took in responding to COVID-19 was usually the declaration of a local emergency. Such declarations allow cities to request aid from states and the federal government and they alter the governing environment to allow local jurisdictions to respond to the crisis flexibly. San Francisco declared a local emergency on February 25, before the city had a confirmed case. By the middle of March, more than half of the 100 largest cities had declared a local emergency. By the end of the month, 96 cities had done so.
Stay-at-home orders
Nearly all states adopted a version of a stay-at-home or shelter-in-place order this spring to stop the spread of COVID-19 by limiting people's interactions. These orders limited private activity, closed nonessential businesses, and temporarily banned public gatherings and activities.
The first state to issue a stay-at-home order was California on March 19. By then, San Francisco, along with five other Bay Area counties, had already adopted shelter-in-place orders. Ultimately, 44 of the largest 100 cities would offer some version of a local stay-at-home decree, with 26 cities issuing one prior to the state.
In many cases, there was disagreement about who had the legal authority to order residents to shelter-in-place. When the governors of Florida, Texas, and Georgia refrained from issuing orders early on, it created an opening for a patchwork of local responses that then sowed further confusion. While both Miami and Tampa issued stay-at-home orders ahead of Florida Governor Ron DeSantis, when the governor issued his order, he explicitly superseded local orders. Similarly, after Atlanta issued stay-at-home orders, Georgia Governor Brian Kemp said the local orders were "merely guidance — both nonbinding and legally unenforceable." Despite this confusion, mayors in these cities and others — including Houston, Greenville, N.C., and Tucson, Ariz. — leveraged their soft powers to advocate on behalf of the intent of their stay-at-home orders.
In other cases, such as Arizona, it was early and collective action by cities that that prompted the state to act. Governor Doug Ducey initially prohibited cities from closing what he considered "essential businesses," including golf courses, pawnshops, and payday lenders. But when mayors from across the state expressed their opposition — and after the mayors of Phoenix, Flagstaff, Tolleson, El Mirage, Tucson, Winslow, Superior, Fountain Hills and Guadalupe came together to advocate for a statewide stay-at-home order — Ducey followed their lead.
Shutting down the city
Mayors found other ways to close their communities and protect residents — including closing businesses, limiting public gatherings, and shutting down nonessential city operations. Among the 100 largest cities:
70 cities closed businesses
Many cities ordered all non-essential businesses to close while others closed a similar set of businesses but didn't define them as "essential" vs. "non-essential." Most often, restaurants, bars, and entertainment venues closed. It is important to consider that the definition of a nonessential business can vary widely among cities. Church services were considered essential in Texas, sparking controversy since it was conducive to large gatherings of people.
In addition, 24 cities closed non-essential businesses before statewide authorities did.
89 cities closed municipal operations
As emergency plans and operations ramped-up, other city hall services closed or shifted online. In-person recreational programming was canceled. Public spaces were closed or monitored to ensure proper social distancing guidelines were followed. Resident-facing municipal services moved to appointment only, then online. And nonessential city workers were put on leave, redirected to other needs, or had to work from home.
For this category, there are also two types of cities: those that clearly stated that all nonessential city employees were allowed to work from home during the pandemic and those cities that announced the closure of some facilities and cancelation of some services.
66 cities limited public gatherings
In early March, the annual St. Patrick's Day parade was cancelled in Boston, a sign of things to come. Early on, and following CDC advice, cities began to limit mass gatherings — 1,000, 500, 250. Eventually that figure fell to 10 in accordance with social distancing guidelines.
In addition, 29 cities limited public gatherings before statewide authorities did.