​
Testing is just the start when it comes to ending Covid-19, doc says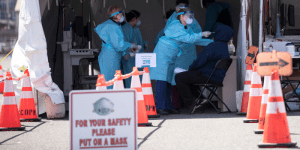 As mayors manage the scarcity of Covid-19 tests in their cities, they also need to "play one chess move ahead" to make sure their communities are using testing to produce maximum impact.
That was the message Dr. Josh Sharfstein of the Johns Hopkins Bloomberg School of Public Health sent to 600-plus city leaders gathered online yesterday for a virtual learning session of the Coronavirus Local Response Initiative. "It's not just testing we want," Sharfstein said. "We want more testing and follow up. We have to make sure that it's not just that more people are being diagnosed with coronavirus but that those diagnoses are leading to action that reduces the spread of infection from person to person."
Sharfstein outlined three scenarios mayors are likely to face around testing in the coming weeks, and actions they can take to make the best use of it.
The first scenario is where there's not enough testing available. That's the one many cities are in now, with New York City the most vivid example. In this situation, Sharfstein said, mayors can support prioritizing testing for those who need it most: very sick patients in the hospital (so that medical staff know what condition they're dealing with) and health-care workers and first responders (so that those who test positive can avoid passing on the virus to others).
In this scenario, Sharfstein said, a lot of people who feel sick and want to know if they have Covid-19 should simply assume they do — and act responsibly by quarantining themselves and notifying any people they've had close contact with. Mayors need to message this clearly.
"'I understand you want to know if you have the coronavirus,'" Sharfstein said mayors can tell their constituents. "'We all want to know. Right now, with limited testing, we have to use [the tests we have available] the best we can to prevent infections in the hospital and in the healthcare system."
The second scenario is where more testing becomes available — which Sharfstein said he expects to be the case in many communities in the next few weeks. As that becomes the case, the next priority is to protect high-risk populations, especially people living in nursing homes, assisted-living facilities, and other settings where infections spread quickly and accelerate a flood of patients in hospital intensive care units.
Sharfstein said there's a critical role for mayors in prioritizing testing in these facilities, as well as making sure they are following CDC guidelines for these facilities. "It's important that if someone has a fever in one of these settings that they are very highly prioritized for a test," Sharfstein said. "You want that person to get a test, because you want to immediately identify that infection and make sure there's a public health team in there to assess the situation and impose infection control measures."
The third scenario is when testing, finally, becomes readily available. That may seem far away, but Sharfstein urged mayors to think strategically about what their cities can do to take full advantage when the time comes. "Don't just be happy that there's testing around and that people can get tested and find out if they have the coronavirus," Sharfstein said. "Build a system, one that makes sure those people get isolated and their contacts get quarantined, and supports them in that."
Sharfstein suggested mayors consider setting up a call center for people with symptoms to call into and get quick referrals for testing. Callers could be flagged for follow-up to make sure those who test positive are getting good instruction about how to isolate, and begin contact tracing immediately. Mayors also could consider following the example of Singapore, which moved sick people out of their homes to keep their family members safe.
"Really supporting the community who need to isolate and quarantine themselves is a huge job of cities," Sharfstein said. "It's one of the most difficult and overlooked things that were done in Singapore and South Korea."
"Mayors have a very important role to play in testing," Sharfstein continued. "It's to remind people that it's not just about testing — it's about testing, plus follow up. Testing plus action."