​
Sparking a new kind of conversation between residents and City Hall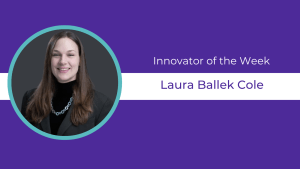 Title: Manager of Civic Innovation
City: Allentown, Pa.
Laura Ballek Cole is putting her background in community organizing to work in local government innovation—first at the Mayor's Office of New Urban Mechanics in Boston, and since last year, in Allentown.
In Allentown, Ballek Cole is prototyping a new resident-engagement approach called City Hall at the Table, or CHATT. It's focused on being everything that traditional town hall meetings aren't: an opportunity for residents and local government to identify and solve programs together. 
A typical CHATT meeting brings a few dozen residents together with city staff in the cafeteria of a local school. There's structure and facilitation for these meetings but no agenda—the conversations revolve around whatever residents want to discuss. Recent meetings, for example, focused on youth mentorship, traffic safety, and litter reduction. 
"These conversations are guided toward the next step," says Ballek Cole, who also leads Allentown's participation in an innovation training through the Bloomberg Harvard City Leadership Initiative. In that effort, she and a group of employees from across city departments are uncovering additional ways to engage residents and build social capital. "We're not going to solve the issue of litter tonight, but what's one step that we can take together coming out of this? What's one thing the city can do? It's trying to nurture that sense of collective action."
Ballack Cole adds: "The typical way people enter governmental spaces is with a complaint. Because government has typically hoarded the power and said, 'No—you wait. We'll solve the problems.;" Now, she continues, "Government officials are ready to say, 'No. We need help.' We're finally ready to admit that." 
Pro tip: "It's never too late to repair a relationship."