​
Safeguarding residents' data in the push for digital services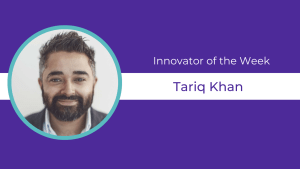 Title: Chief Digital and Information Officer
City: London Borough of Camden, U.K.
Camden is one of the 32 boroughs that make up Greater London—and a good one for city innovators around the world to watch. Home to Google, Facebook, and other tech giants, as well as some of the poorest neighborhoods in the U.K., Camden's leaders are intently focused on tackling inequality through a series of missions aimed at diversifying local leadership, boosting economic opportunities, improving access to food, and more. 
It was Camden's commitment to big social goals that lured Tariq Khan from a private-sector tech career to go work in local government. "I was really interested in what Camden were doing," Khan says. "They were quite ambitious with where they wanted to go, and a leader in data and other areas."
What struck Khan right away was the vast number of business lines the borough of 280,000 residents maintains—about 600 services in all, from parking to subsidized housing to vital records. Delivering so many services with scarce resources is Camden's biggest challenge, he says. It's also the biggest opportunity in terms of being able to use data and artificial intelligence to see trends that can help local leaders serve residents better. "There's 600 points where residents are interacting with us," Khan says. "That gives us an incredibly rich picture of who you are."
But Khan also feels strongly that to use residents' data this way, local leaders must see themselves as guardians of that data. That's why he led an effort to write Camden's groundbreaking Data Charter spelling out what responsible use of residents' data looks like. Khan partnered with the data and AI experts at the Alan Turing Institute, based in Camden, to facilitate a series of workshops with residents and co-develop a set of principles that aim to "guide how we collect, process and share data ethically in Camden." The Camden Council adopted the Data Charter in January.
Among other things, the charter includes a commitment by local leaders to be transparent about what data about residents the borough holds, how it's used, and why. There's also a process for reviewing the charter annually, in recognition of how quickly the data science field is moving. "Public trust and ethics is a really important foundational layer," Khan says. "If you don't have that transparent relationship with your citizens, all the ambitions you have for using AI for early intervention and all these sorts of things, they won't go anywhere."
Pro tip: "Make sure your to-do list dictates your calendar, and not the other way around. Working in the public sector can pull you in a lot of different directions and it's important to have a clear set of North Star priorities that dictate how you plan your day."