​
In push to normalize mask wearing, mayors lead by example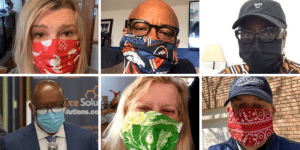 Wearing a mask in public: It's the latest change to our everyday lives that, just a few weeks ago, we would have never imagined.
And across the country, the nation's mayors are leading the way in showing us how our new normal looks. Mayors are masking up for press conferences, social media selfies, and the occasional outing for essential purposes.
"It is time to normalize wearing a mask every single time we have to leave the house," Ithaca, N.Y., Mayor Svante Myrick tweeted with a photo of himself wearing a stars-and-stripes emblazoned mask. "A cloth mask that covers your nose and mouth will stop you from touching your face, will reduce air droplets, and sends a signal to everyone…."
The mayors' push follows new guidance from the U.S. Centers for Disease Control and Prevention. Previously, the CDC had generally discouraged the use of face masks, except for those who are sick.
However, citing new evidence of significant spread of the disease among people not showing symptoms, the CDC changed course on Friday. The federal agency now recommends "wearing cloth face coverings in public settings where other social distancing measures are difficult to maintain (e.g., grocery stores and pharmacies) especially in areas of significant community-based transmission."
Using simple cloth face coverings made from T-shirts or bandanas, the CDC now says, can help people who have the virus and don't know it to keep from spreading it to others. (Read the CDC's guidance here and a FAQ on how to make and wear a cloth covering here.)
The guidance comes with two big caveats. One is that surgical masks and N-95 respirators, both in short supply, continue to be reserved for healthcare workers and medical first responders. The other is that even when wearing cloth face coverings, people need to maintain six-feet social distancing to prevent spread of the virus.
Last week, cities such as New York and Los Angeles made similar recommendations to their residents before the CDC's new guidance was announced. Now, mayors such as Boston's Marty Walsh, Dayton's Nan Waley, and Houston's Sylvester Turner are leading by example by wearing face coverings in public, along with their staffs, and encouraging residents to do the same.
"Wearing a mask feels pretty weird," Karen Majewski, the mayor of Hamtramck, Mich., posted with a photo on Facebook. "But we do it out of love — for life, for each other."