​
Procurement is reforming how cities work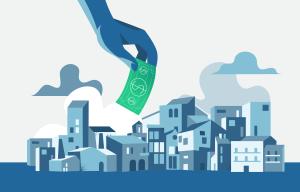 More and more, city leaders are looking to leverage the collective billions they spend on goods and services to achieve ambitious goals. And after the upheavals of COVID-19 and the murder of George Floyd, building wealth and growing business opportunities in communities of color is at the top of many mayors' lists.
Mayors in Baltimore, Boston, Chicago, Washington, D.C., and other cities are among those doubling down on using procurement to advance equity goals. As Boston's Michelle Wu said last year, "We must use every tool possible to ensure equity in city contracting and build wealth in our communities."
Bloomberg Philanthropies is supporting cities to reform procurement through a number of programs, from the City Data Alliance to innovation teams to the Bloomberg Harvard City Leadership Initiative, in partnership with leading procurement experts from the Harvard Kennedy School Government Performance Lab, or GPL. Elena Hoffnagle of GPL says many cities go into this work daunted by the thought that they have to first conduct a full-scale study of disparities in their contracting. But even small steps can make a big difference, she says.
"Cleaning up the procurement process to make it more welcoming, less burdensome, and more accessible—or affirming that your city wants to do business with Black-owned businesses or to create partnerships with, for example a Hispanic chamber of commerce—are, from our perspective, better first steps than waiting years for the results of a disparity study in order to launch a new preference program," Hoffnagle explains.
Here are some of the tools cities are using to notch quick wins on driving equity through procurement.
Step 1: Improve outreach and access
In Lansing, Mich., the first step was to escalate outreach with women- and minority-owned firms and to decode for them the uninviting process for bidding on city contracts.
Amber Paxton, Lansing's Director of the Office of Financial Empowerment, says the city produced two webinars last year and spread the word about doing business with the city through community organizations with ties to various ethnic communities. Participants got a guided primer on how to bid for city contracts and gained entry to a local chamber of commerce event for diverse suppliers. They also received free, one-year access to the state of Michigan website on which all city requests for proposal are posted and through which firms are automatically notified anytime a new opportunity to bid is posted.
"The reaction was really incredible," Paxton says. "We had people emailing saying, 'This is exactly what we've been wanting the city to do.'"
[Read: Four ways to turn procurement into a force for change]
Phoenix took a similar approach to diversify contractors for its nearly $20 million landscaping budget. T.J. Martin—then the city's Chief Procurement Officer and now an Assistant City Attorney—says she and her team used a major media campaign to urge local and women- or minority-owned firms to bid. They also conducted a survey of firms asking how the city could make the bidding process easier and more transparent.
"Many of them asked that we break up the contracts by region and provide some light-touch technical assistance to respond to the actual solicitation," Martin says. That's what the city did, including transforming an almost indecipherable spreadsheet of city locations into a web-friendly interface.
The process more than doubled the number of bidders from the last solicitation, and Martin says more than half the new bidders were local or women- or minority-owned. The city also added other local firms as back-up contractors in case any of the firms that won the bids don't work out. Those back-up firms also have the opportunity to "shadow" larger firms to gain experience and connections.
"Small businesses are cornerstones of communities across the country, and local governments have a powerful means to support their success by ensuring procurement processes are equitable and accessible," Phoenix Mayor Kate Gallego tells Bloomberg Cities. "By making smaller, more accessible contracts available for local businesses, we can spread the wealth."
In Long Beach, Calif., they conducted a survey of roughly 500 potential vendors, both inviting them to bid on city projects and asking how the contracting process could be improved. "The overarching thing we heard was procurement is just confusing and it doesn't make sense," says Purchasing Agent Michelle Wilson. "We heard, 'I'm a small business—how do I have time to submit this 40-page proposal when I'm trying to keep my business afloat?' Our take was that we needed to start figuring out how to reduce barriers."
[Read: Using government procurement to advance equity]
For Long Beach, that process included going out into the community, even to events like outdoor movies and concerts, and urge vendors to bid on city business.
"It was good for the community to see us out there and good for us to get the word out," Wilson says. "And it was also good for our staff at the same time to see, OK, all of this work that I'm doing is for a good reason."
Step 2: Rightsize contracts and create opportunities for subcontractors
Many cities are also breaking up larger contracts—particularly in public works—to create smaller jobs that diverse firms might have a better shot at winning, as well as using other methods to optimize opportunities for subcontractors.
In Boulder, Colo., as city officials set out to contract a firm to build 65 miles of fiber-optic infrastructure, they worked with Harvard's GPL to hoar a "pre-bid" conference to answer questions about the potential opportunities and to create a network of potential subcontractors.
"The thought was that this could be an opportunity for the big prime contractors to meet potential subcontractors and those potential subcontractors would be small businesses, minority-owned businesses, women-owned businesses," says Greg Wass, a GPL senior advisor who worked with Boulder on the project. "Just the fact of creating a networking opportunity would help that process along."
The results: Of 18 sub-contractors, 13 were small and/or women- or minority-owned business enterprises.
Step 3: Deliver services equitably
Cities aren't just looking to diversify who they're doing business with. They're also changing the terms of the contracts in ways that make clear that services they're contracting for are delivered in an equitable manner.
In the Boulder project, the city included for the first time specific contract language on expectations for how local communities—many of them underserved areas of the city—would be treated. That included: "proactive communication to communities to indicate forthcoming and ongoing construction activities, responsiveness to community concerns about construction site locations, strict observance requirements of city regulations on hours of activity, and strategies to minimize disruption to pedestrian and vehicle traffic."
[Read: Seattle and Syracuse set out to prove the power of procurement]
In Long Beach, Wilson and her staff staged a "RFP-athon," which took about 50 city officials through an eight-session course in how to write results-driven contracts including equity-oriented language.
"When we started this process, we would ask at meetings, 'Why do we need this contract?' And the answer would be, 'Well, the old one has expired,'" says Laura Merryfield, a GPL Project Leader working with Long Beach. "That's what we want to get people to move beyond, to focus on what we're actually trying to achieve. But it requires continual vigilance and pushing people to think critically."
________________________
Join the Procurement Excellence Network, a free online hub for public-sector leaders to connect with peers, access high-quality resources and templates, and learn about innovative procurement practices. This community is designed exclusively for government professionals whose work touches procurement and contracting, and will provide tools and direct support to state and local government leaders. Learn more and sign up here.