​
New website tracks cities' Covid-19 actions in real time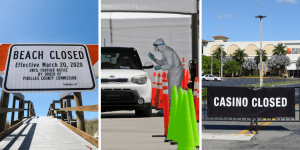 As part of our ongoing work to help in the global fight against coronavirus, Bloomberg Philanthropies, in partnership with the National League of Cities, today launched a new initiative that identifies, catalogues, and tracks — in real time — local actions taken by U.S. mayors and city governments in response to the pandemic. The COVID-19: Local Action Tracker will document the rapidly expanding ways in which cities are responding, enable cities to quickly understand what their peers are doing, and feature timely analyses about city responses. The tracker will be hosted on the National League of Cities' website and is an open-data platform that will make all verified data accessible to the general public.
The tracker already contains 365 actions from 151 cities in 43 states plus the District of Columbia. More than half (52 percent), were designed to flatten the curve by preventing the spread of the coronavirus through actions such as canceling events and restricting public gatherings.
[Get the City Hall Coronavirus Daily Update. Subscribe here.]
"Mayors across the country are on the frontlines leading the fight against the coronavirus pandemic and every day they discover yet another aspect of city life is affected by this crisis. As city leaders' responses to the crisis evolve, we want to provide them with tools, data, and resources needed to make informed decisions," said James Anderson, the head of Government Innovation at Bloomberg Philanthropies. "This tool will allow local leaders to learn best practices from their peers, share ideas, and work together during one of the most challenging times in this nation's history."
Bloomberg Philanthropies and the National League of Cities are collecting and documenting city actions in the tracker. In addition, city leaders can submit their actions to be included, which will be updated daily to reflect the rapid developments of the crisis. Actions such as testing protocols, curfews, donation drives, and food programs will be highlighted to give city leaders across the country an opportunity to gain insight into emerging practices and what is working in cities. These submissions will be vetted, documented, and analyzed by the National League of Cities in order to build a comprehensive accounting of local responses to the pandemic.