​
Mike Bloomberg's remarks at the unveiling of the Bloomberg Center for Cities at Harvard University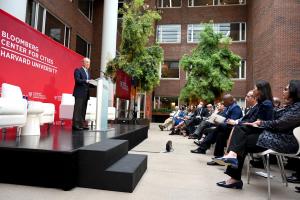 The following are remarks from Michael R. Bloomberg, founder of Bloomberg LP and Bloomberg Philanthropies and 108th mayor of New York City, at the opening of the Bloomberg Center for Cities at Harvard University on April 18, 2023.
It's always great to be back at Harvard – and to be joined by so many great current and former mayors that our foundation has had a chance to work with.
Now, I graduated Harvard Business School in 1966 – don't ask me how.  I could only dream of having Chat G.P.T.
Back then, around one-third of the world's population lived in cities. Today, it's a little more than half – and growing rapidly. It's the biggest demographic shift in history – and it presents all kinds of opportunities to build a healthier, more prosperous, more equitable world. But for mayors and local leaders, rapid urbanization also presents major challenges.
They have to provide more services, to more people, while also confronting climate change, and the continuing threats of gun violence and terrorism.
This weekend Mayor Wu and the city of Boston marked the 10th anniversary of the horrifying marathon attacks – and sadly, the threat of terrorism is still very much with us.
At the same time, mayors everywhere are grappling with the lingering effects of the pandemic. The news is full of stories about the collapse of cities: rising crime and homelessness, empty offices and shuttered businesses, shrinking tax bases and failing schools.
It's been called the "urban doom loop" – and all of us who lived through a post-9/11 world have heard it before. We know it's possible to break free of the doom loop – we've done it – but it's not a given.
It requires all the things this center will focus on: innovation, collaboration, idea-sharing, and all the tools that make for effective leadership. And it requires insights from the public and private sectors, which is why our partnership with Harvard brings together the Business School and the Kennedy School of Government.
The stakes could hardly be higher – especially here in the U.S., because the federal government is directing large amounts of revenue to cities through the infrastructure bill, the Inflation Reduction Act, and other spending bills. The success of those bills really depends on the ability of cities to use that funding effectively. So the work happening here couldn't be more important.
We're lucky to have Jorrit de Jong as our faculty director, and Dave Margalit as our Executive Director, and I'd say that even if Dave wasn't a Bloomberg administration alumnus. I want to thank them for their partnership with our Government Innovation team at Bloomberg Philanthropies, which is led by Jim Anderson. They deserve a big round of applause – and so do all the mayors and everyone here who is helping to lead the work in cities around the world.
In over half of America's 100 largest cities, the current mayor is a graduate or class member of the Bloomberg Harvard City Leadership Initiative. So if they don't succeed, at least we can blame Jorrit.
Seriously, cities are a big focus for Bloomberg Philanthropies, across all the areas we work in, because we've seen the power of cities to scale and spread change. And by investing in mayors and local leaders, we can multiply the impact of our philanthropy.
Mayors are setting big and ambitious goals – and that's crucial. But the truth of the matter is: too often, cities are falling short of their ambitions. They are aiming high – only to hit the ceiling.
Today I want to briefly touch on two key reasons why – and what we can do about it. Because we can do something about it, and that's what this center is all about.
The first reason local governments often fall short of their ambitions will be very familiar to the mayors here today: their authority to take action is too limited. And here in the U.S., that authority is being hamstrung by both sides of the political spectrum.
On the right, state legislatures are pre-empting city halls from taking action on a growing range of issues – including gun safety, charter schools, and climate change. Every mayor runs up against this – and I'll give just a few examples.
On the environment: Many states prohibit cities from requiring that new buildings be heated by electricity or heat pumps, rather than by oil or gas. That makes it harder for cities to reach their climate goals – which slows down our national progress.
In public health: More than a dozen states also block their cities' ability to pass strong tobacco laws that protect people from second-hand smoke.
And on public safety: Only eight states allow local officials to pass gun laws that are tougher than state laws – which in many cases is a very low bar.
This preemption push from the right means that mayors' authority is increasingly being undermined on issues that impact their constituents' lives, even though mayors are held accountable for making progress on those issues.
But the problem isn't just on the right. On the left, regulations and reviews that were adopted to promote transparency and public participation have become full-employment acts for lawyers and consultants that make getting projects off the ground difficult – or impossible.
Anyone who has ever served in local government knows how difficult it is to build anything – and how it takes much longer, and costs far more, than it should.
More and more progressives are seeing the harms of NIMBY-ism – Not in My Back Yard. And that's great. Because all of our backyards need more clean energy. More mass transit. More affordable housing. And more sustainable infrastructure.
Make no mistake: Everyone should have their say. That's democracy. But there is a very big difference between protecting the public from the tyranny of majority rule and holding the public hostage to the complaints of a few. We need to rebalance the scales – and mayors can lead the way, by confronting these issues head-on, and working across the aisle to address them.
The overly restrictive limits placed on city authority – by both the right and the left – means that cities are being expected to solve major challenges with one hand tied behind their backs and sometimes two. So I hope mayors and all local leaders will continue joining together to speak out for more authority and autonomy. But that's only half the challenge.
The second issue holding cities back isn't about their authority to act, but their capacity to deliver. It's one thing to have the legal authority to do something. It's another to be capable of actually doing it. And in many cases, cities have ambitions that prove to be beyond their capabilities. The lack of capacity that cities face – like the lack of authority – is often rooted in political ideology.
On the right: Republican-led state governments often starve cities of necessary resources. And on the left, there is a tendency to push for more and bigger programs – regardless of whether they are producing results. And so the capacity to do something gets conflated with the budget to do something. But of course: there's much more to it.
Having the capacity to achieve a goal starts with building strong teams based on merit and competence, not politics or friendships. It means giving people the freedom to innovate – and holding them accountable for success. It means getting sophisticated about data. It means conducting rigorous evaluations of programs – and pulling the plug on ones that aren't working.
It means streamlining rules and regulations that can do more harm than good. It means fostering partnerships with business and community groups to solve shared challenges. It means supporting great ideas – from both parties, and from the private sector, too.
And the more people get back to working together in person, the bigger the impact all of those steps can have.
I'm a big believer in the idea that strong teams require face-to-face interactions that build relationships – and Zoom can't replace that. Police officers, firefighters, sanitation workers, teachers, EMS workers, and others are all putting in full weeks in-person – and office workers should be no different. The public is paying for people to be in the office five days a week – and that's what they should get.
The longer people are absent, the more governments will struggle to reach their goals – and the less faith the public will have in them, and we just can't let that happen.
Building government's capacity to do things effectively is an idea that both parties ought to be able to rally around. But too often, investing in capacity isn't at the top of either of their lists. And make no mistake: building capacity isn't cost-free – not in the private sector and not in the public sector, either.
It requires hiring and training people in different ways – and I'll just offer a few quick examples.
First, just think about data. We have a saying that guided our work in New York's City Hall, and now at the foundation: If you can't measure it, you can't manage it. Measuring starts with collecting. And cities now have access to tremendous amounts of data. That's the good news.
The bad news is: many of them just don't have the resources and expertise to use that data to fashion programs and policies, or to understand what is and isn't working.
Helping to fix that has been a big priority for our foundation, because if we can expand cities' capacities, we can expand their achievements.
The same is true with federal funding. The last Congress authorized billions of dollars cities can tap into – but only if they have the capacity to know which funding streams they're eligible for – and to develop strong applications. So we've been holding regular Zoom meetings with experts and advisors who are helping mayors do exactly that.
Cities can also build their capacity to deliver by tapping into the strengths of businesses, non-profits, and volunteers.
For instance: we helped Detroit increase the number of people receiving the Earned Income Tax Credit, by signing up a network of non-profits and volunteers to prepare taxes for free – and spread the word about the credit.
Since the team launched the program, Detroit families have claimed more than $900 million in additional tax credits – money that will help support households and local businesses of every kind. That initiative grew out of our own work in New York's City Hall, where it was a success.
Public-private partnerships helped us take on many big challenges – from building new parks, to launching a public bike-share program at no cost to taxpayers. So we've been helping more cities build those kinds of partnerships.
One last example: cities can strengthen their capacity by streamlining regulations. In New York City, rules changes we made helped triple solar power production… and helped restaurants open their doors faster.
That effort was led by one of our Deputy Mayors, Steve Goldsmith, who's now a professor here at Harvard – and he's here today, so thank you Steve.
Those are just a few examples of how cities can solve problems for their residents with creativity, smart management, and a refusal to accept the status quo.
We've been supporting that work for years, and the reason we made this big investment to create the Center for Cities is that we know there's so much more potential, and not just at the city level, because let's face it: The problem of government incapacity is even more pronounced at the state and federal levels.
In Washington, Republicans want to starve the beast, and Democrats want to stuff it full. Well, how about we build a better beast?
That's what we hope this Center will help to do. So let me just thank all the mayors here today who are helping to lead the way. And thanks to everyone at Harvard for their partnership, and all the groundbreaking work happening here.