Mid-sized cities test new approaches to reducing traffic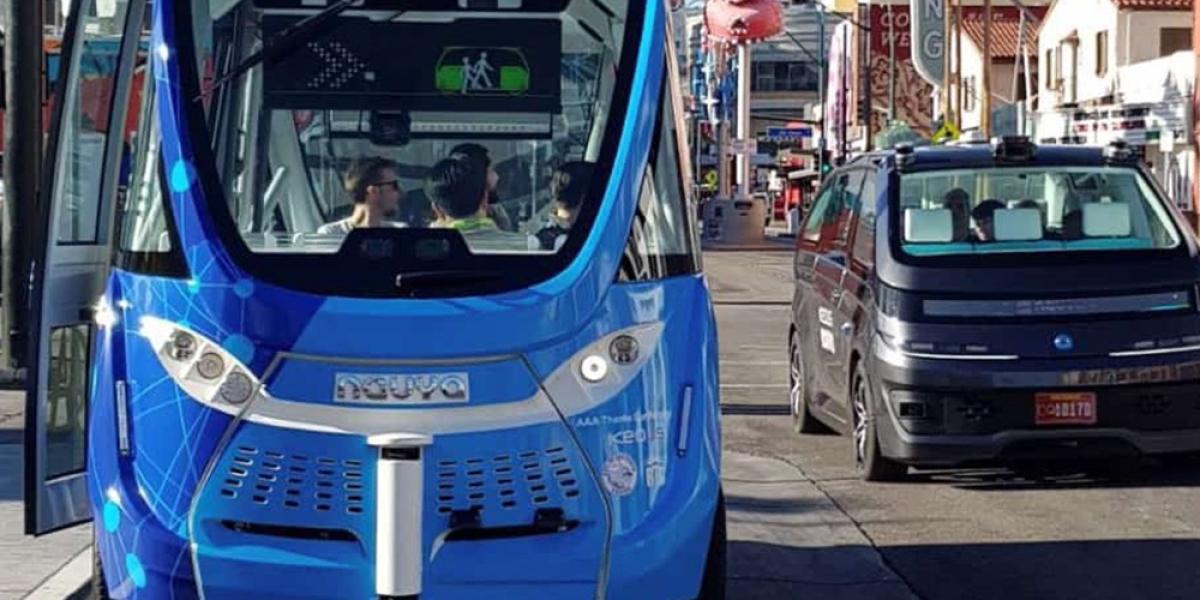 May 17, 2018
When a driverless shuttle bus hits the streets of Lincoln, Neb., this summer, it won't just be a milestone moment for autonomous vehicles. It could also be a turning point for how mid-sized cities think about transportation.
The shuttle will carry up to 12 passengers at a time on short trips around Lincoln's downtown core. Unlike on most circulator-bus services, riders will be able to hail it on demand. And unlike most private ridesharing services, the fare will be on par with other public transit, making it affordable for everybody.
If it works, this experiment may point the way to a future where cities like Lincoln — large enough to generate a lot of car trips but too small for major rail investments — can manage transportation in a whole new way. Instead of widening roads and building new parking garages, they could focus instead on enabling people to use the infrastructure they already have more efficiently.
"Widening one mile of street costs us $10 million," said David Young, a manager with the city's Department of Public Works. "We want to continue growing as a city, but we also want to use the public's money wisely."
This is Infrastructure Week in the United States, a time when advocates shine a light on the $2 trillion backlog of repairs needed to the country's transportation networks, water systems and electric grids. With national politicians in Washington unable to agree on a plan, cities like Lincoln are increasingly at the forefront of coming up with practical solutions, especially when it comes to transportation.
There's good reason for that. According to Bloomberg Philanthropies recent American Mayors Survey, more than half of mayors regularly hear complaints about traffic congestion from residents. And while the problem transcends cities of all sizes, concerns are most pronounced in small- and medium-sized cities.
That may be why some of today's most interesting ideas for fixing transportation problems are coming not from big cities on the coasts but smaller ones in the heartland. Lincoln's idea for the driverless shuttle was one of several transportation-related ideas to win $100,000 in the first round of this year's Bloomberg Philanthropies Mayors Challenge. Along with 34 other Champion Cities, these cities are prototyping and testing out their ideas over the next few months, in hopes of winning $1 million or more to implement them in October.
[Read: Unleashing the power of public prototyping]
For example, South Bend, Ind., is testing whether an employer-subsidized ridesharing program can help low-income and part-time shift workers get to jobs they can't reach by public transit. Boulder, Colo., is testing assumptions around the mobility barriers faced by low-income residents — as well as interventions to overcome them. And Durham, N.C., is conducting a series of behavioral-insights experiments to find the best ways to encourage commuters to leave their cars at home when they're headed downtown.
"We don't want to be the type of city where the biggest building downtown is a parking garage," said Durham Transportation Director Terry Bellamy, noting that such structures can cost $35,000 per parking space. "Our goal is to reduce the need for parking in our central business district, and to test the economics behind why people think they need to drive into downtown by themselves and create congestion."
The ultimate aim in Durham is the same as it is in Lincoln: to keep growing and thriving — but in a way that simultaneously reduces traffic congestion. They're stressing walking over driving, and testing out the idea that, when it comes to infrastructure, the most environmentally sustainable path forward might also be the one that is most affordable.
"You look around the country, and the big light-rail projects — those are really expensive," Young said. "If you don't have the density of people to move, you're really just relegated to building more and wider roads, which is just not sustainable. So for us, if we don't have to widen one mile of roadway, the shuttle system pays for itself completely."