Mayors say using data effectively is saving lives during the pandemic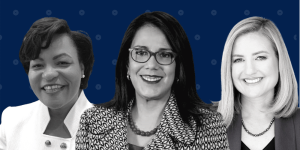 January 22, 2021
For mayors, COVID-19 is elevating the use of data in decision-making and underscoring the ways they can bring data to bear on their most pressing concerns. Mayors these days are constantly checking their COVID-19 data dashboards. They're calibrating lockdown rules to the latest numbers. And they're communicating with the public around the meaning of metrics they'd never heard of a year ago, like the test-positivity rate.
To learn more about the new ways cities are using data and the opportunities leaders see beyond the pandemic, Bloomberg Cities checked in with the mayors of three cities that have earned What Works Cities Certification—a designation that recognizes their cities as among the best in the U.S. at using data and evidence to drive results for residents. All three mayors—LaToya Cantrell of New Orleans, Kate Gallego of Phoenix, and Michelle De La Isla of Topeka, Kan.—stressed the same bottom line: That grounding local decision making in data has unquestionably saved lives in their communities. 
[Get your city What Works Cities Certified. The first step: Complete this assessment of your city's data practices by January 29.]
In what ways has data most strengthened your city's pandemic response? 
Michelle De La Isla: For me, data was hugely important in understanding how we could manage the COVID response. One of the first things we started working on with our health officer was a data scorecard with basic measures of things we should be checking: the number of cases, test positivity rate, hospital availability. Having that helped us develop the narrative we use with our County Commission on policies to keep our community safe. For example, when data showed that bars and restaurants were one of our biggest problems with spreading COVID, we were able to get them to tighten their hours of operation.
Kate Gallego: With COVID testing, our state portal at first showed very few cases diagnosed in Phoenix. That state data did not square with our experience on the ground—our firefighters and EMTs were responding to a high level of COVID cases, particularly in our lower-income communities. So the city got into testing. We are not a public health authority—in Arizona, that's a county function. So this was new for us, but we knew our residents couldn't make key decisions about their lives without having access to this data. And we also could not run our city as effectively during a pandemic, without having a good understanding of the prevalence of COVID-19 in Phoenix.
The data showed what our EMTs were experiencing on a daily basis, that we did have very high rates of COVID. And that really helped us make better decisions, as well as help our residents understand what was happening in their families. Data saved lives. 
LaToya Cantrell: Before the pandemic, we'd created something called the NOLA Kids Data Book. It provides a comprehensive picture of children's wellbeing in the city. We've also done asset mapping to know exactly what resources we have for kids, and what we are spending on our youth.
The data book allowed us to drill down to the Census tract to see where gaps were in terms of child poverty rates, adult unemployment and health outcomes.
With challenges like remote learning and food insecurity caused by the pandemic, we had the data at our fingertips. The data helped inform where to devote finite resources to help children impacted by the digital divide and identify who needed food and academic support. We were also able to pinpoint neighborhood assets such as recreation centers, libraries, non-profit agencies and church groups that could be leveraged to meet people and families where they are in our communities.
As a mayor, why is it important that your city be excellent at using data?
Cantrell: It's important because you want to use your time and your resources wisely, especially when you are moving through a crisis. A scattershot approach doesn't work. We don't have time to waste. Data helps you to not be distracted. And it can help you see when you're going wrong so that you can pivot quickly to stay on track. 
De La Isla: Data gives us a shared language that we use with the business community, church community, and school community. COVID has created this culture in which we're all looking at dashboards as a norm. That's been especially important working with our communities of faith. In our state, we've seen churches suing cities around regulations and we don't have any of that. I meet with the church leaders every week, and they want to talk about the scorecard and where we are. 
Before Christmas, many hoped to do a Christmas Eve service, but we were starting to see the post-Thanksgiving COVID spike. My biggest mega-churches decided to get creative and do a drive-through service. They had so much access to the data that it was normal for them to talk about it and easier to make a decision that really was not popular. Had we not been talking with them about the data and building the relationships, our hospital capacity could have easily been overwhelmed by now.
Gallego: Phoenix is the nation's fifth-largest city. We have so much need in so many places. We have to allocate resources based on a good understanding of what's happening in every corner of our very large city and do it in a way that is fair and equitable.  
It also helps us plan ahead and think long-term. As the mother of a small child, I want to think about the next generation—and not just the next budget. So we do want to think and have longer term plans and metrics so that we know how we're doing and can stay focused on our goals. 
Why should it matter to residents that their city be excellent at using data? 
De La Isla: I often say that government is at its best when you don't even think about it. You want to drive on a road and not feel the bumps on it. Or when you pick up the phone to call the police or fire, that they're going to be there. Being as successful as we have been at integrating data into our business practices helps us to not be top of mind to our citizens so that they can just stay busy living their lives.
Cantrell: We're government, so building that civic trust is critical. Being able to show results on the ground—and being transparent about it using data—improves the credibility of government. If people trust you, then you're going to save some lives.
Gallego: For us, the voices of our 1.7 million residents are data that we listen to as we make decisions. Before the pandemic, like many cities, we were faced with real challenges with our recycling program, which was not seeing the same revenues that it had in the past. We reached out to residents and did a huge citywide survey. We were very intentional about making sure it got to every part of our community and overcame language barriers. And residents appreciated the opportunity to tell us what they thought about those programs. In our case, they overwhelmingly said that recycling was a core city value and that they were willing to pay for it to continue. Our residents appreciated the ability to have input into decisions that impact their daily lives. It is their city, and data lets their voices rise. 
Why does it matter for your city to be What Works Cities Certified?
Gallego: One of the reasons I decided to highlight our What Works Cities Certification in my State of the City address is I thought it really conveyed the values we have as a city. We want to have the best practices in data management, and make the smartest decisions possible. We care very much about making sure we stay on the cusp of leadership. So it is a great tool to help us continue to push ourselves, and also to celebrate that we're making decisions based on real solid information.
Cantrell: Certification helps in terms of us being able to benchmark our progress. It's a  roadmap to follow so that we can continue to deliver results for our people, excel the work of government, and build that civic trust. 
De La Isla: It gives me immense pride in my staff, that we are being recognized as good stewards and for the fact that we have made good use of the resources that Mayor Bloomberg has been so generous with.
Want to get your city What Works Cities Certified? Completing a What Works Cities Assessment is the first step to receiving exclusive, pro bono support from What Works Cities to continue building a more effective local government and to be considered for Certification. The program is open to any U.S. city with a population of 30,000 or higher.