​
Love Your Block is rewriting the rules of resident engagement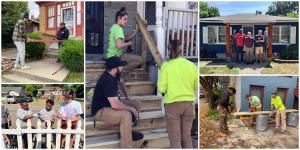 As 30 local government leaders finishing their first year running Love Your Block programs across the U.S. convened in Baltimore last week, there were tangible outcomes of their work to celebrate. In one year tackling blight across eight U.S. cities, this group has engaged 7,100 residents and partners around 76 neighborhood cleanup projects that removed a staggering 66,300 pounds of trash.
In addition to these measurable outcomes, other palpable impacts were just as exciting. Love Your Block leaders can see how their efforts to mobilize neighbors and volunteers to clear vacant lots, fix porches, paint murals, and more are also building social capital within neighborhoods. They also described how listening closely to residents' needs—and turning city government into an accelerator of their ideas—is restoring trust within marginalized communities and giving city halls a new playbook for resident engagement.
Love Your Block is a proven model in bottom-up neighborhood revitalization. The program started in 2009 during Mayor Mike Bloomberg's administration in New York City, spread through the Cities of Service coalition to dozens of U.S. cities, and is now based at the Bloomberg Center for Public Innovation at Johns Hopkins University. In the program's latest iteration, eight cities have engaged residents to award more than 80 mini-grants of up to $2,000 for resident-led cleanup projects. The work on the ground is facilitated by a full-time fellow and an AmeriCorps VISTA member, and backed with funding and technical assistance from the Bloomberg Center for Public Innovation.  
An Urban Institute report found that the program's "emphasis on strong reciprocal relationships between citizens and city officials who work together closely at the neighborhood level can spark more integrated, citizen-centered reforms and innovations in city policy and practice."
But Love Your Block is also continuing to refine the approach around how cities can best engage with communities, says Tracy Colunga, Civic Engagement Director at the Bloomberg Center for Public Innovation. "There's a lot of literature about how you build civic infrastructure, and Love Your Block is where we're helping cities test those theories," she said. "We're learning in real time from these cities. Over the coming years, that's how this field is going to evolve. The cities are going to inform our theory, and that theory will inform their practice."
'Letting the community lead'
That's already happening in Albany, N.Y. There, the program is breaking down barriers between local leaders and residents in historically redlined neighborhoods where distrust in government goes back generations. Albany's Love Your Block Fellow, Tabora Marcus, is from one of those neighborhoods, West Hill, and also heads the neighborhood association there. "We're really focusing on listening to the community," Marcus said, "and letting the community lead the projects." 
Marcus recalled a recent interaction with one elderly resident whose front steps were falling apart. Marcus approached him about putting in an application to have them repaired. "He was like, 'get away, I don't want anything the city is offering,'" she said. Later, Marcus came back—this time dressed in sweatpants and introducing herself as being with the neighborhood association. She won him over. And when volunteer carpenters came to fix the steps, he couldn't have been happier. "It was really nice," Marcus said. "Just seeing the look on his face!"
Inspired in part by results like this, Mayor Kathy Sheehan is proposing in her next budget that the city create five "neighborhood specialist" positions. These would be people at City Hall whose job is largely to listen to community concerns and connect residents and businesses to resources. "Mayor Sheehan has proven that she wants to see change in the city," Marcus said. "The city is really starting to listen."
A force to say 'yes'
A similar story is unfolding in Jackson, Tenn., a city of 68,000 about two hours west of Nashville. In the predominantly Black neighborhoods of East Jackson, Love Your Block is empowering residents to lead projects like Sarah's House. It's the brainchild of a lifelong resident who saw a need in the community for a gathering spot and hoped to create one by turning her aunt's home into a museum of local Black history. Love Your Block mobilized support for repairs to the home and grounds, as well as connections to additional resources to keep the work going. 
"It's a classic example where a resident has a vision for something and they've been told 'no' so many times," said Lauren Kirk, who manages the program in her role as Jackson's chief innovation officer. "And we get to be an empowering force to say 'yes.'"
Executing resident-led projects like this has laid bare a problem in Jackson that exists in almost every community in America: Residents have big ideas—and deep needs—and don't know how to get City Hall's help addressing them. Jackson is responding with two new initiatives, both inspired by the Love Your Block approach.
First, the city has just launched something called the "Neighborhood Academy." Essentially, it's a six-month training for community leaders to learn how city government works. The hope is to build strong and informed resident voices within every district who can connect neighbors to resources and become change agents in their communities. Second, the city is using some of its federal funding through the American Rescue Plan Act to create a Neighborhood Services Department, rooted in the bottom-up Love Your Block engagement model.
"Some of our biggest wins have just been having conversations with residents," said Abby Palmer, an AmeriCorps VISTA member working with the Jackson program. "It's about understanding residents' daily struggles—and then also hearing questions they have about who to go to when they need something done. We take that information and create opportunities to meet those needs."
'I want to be part of that'
Sha'kiya Morris sees a similar transformation happening in Shawnee, Okla., a city of 30,000 on the outskirts of Oklahoma City. Morris is an entrepreneur who found her voice as a podcaster and as an advocate for sustainability and community wellbeing. Mayor Ed Bolt recruited her to become Shawnee's Love Your Block Fellow—a role that she sees as enabling residents to find their voices, too. "It's really about being a megaphone for them," she said.
In Shawnee, Love Your Block is working in an area called Dunbar Heights, a historically Black neighborhood adjacent to the Citizen Potawatomi Nation. Morris said the area once was filled with Black-owned businesses, doctor's offices, and everything the community needed. When the local high school was torn down in 1974, it came to symbolize the disinvestment that was happening in the community.
Love Your Block is beginning to turn that around. When volunteers came to paint the house of a resident who lives on a highly visible corner lot, Morris said, "everyone was driving by to see it and they're like: 'What is that? I want to be part of that. Where can I sign up?'"
Another sign of change: One day this summer, Mayor Bolt came out with the volunteers to paint. It was the first time anyone in Dunbar Heights could remember a mayor of Shawnee visiting the community, let alone getting their hands dirty helping residents, Morris said. "It's never happened like that. Never. If the city were to come in, it would probably be to take something away rather than put something in," she said. One resident recently texted Morris: "You brought back the joy in our community." 
Morris said the first year of Love Your Block in Shawnee was focused on showing the ways change can happen in the community. Year two will be about "teaching people how to fish"—educating residents about how to navigate city resources themselves and tap into trainings, financial literacy courses, and other ways of sustaining the momentum.
Colunga sees all these porch repairs and fresh coats of paint building into something much bigger: a movement to change how local leaders relate to the communities they serve. "We're attracting a lot of young Millennials and Gen Zs into this work, and they're dreaming differently about what government can do to bring city hall into neighborhoods," she said. "They're going to be our future city service officers and civic engagement officers. They're already setting the trend and using best practices. And most importantly, they're passionate about it."
Learn more about Love Your Block:
Announcing the 2021 Love Your Block grant winners
Read the Urban Institute's Love Your Block study