​
Looking for low-cost hacks to make a data-driven city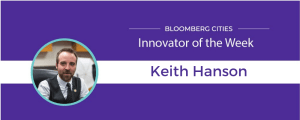 Name: Keith Hanson
Title: Chief Technology Officer
City: Shreveport, La.
When Keith Hanson in January left the small software company he started in Shreveport to become that city's first chief technology officer, he brought one thing with him: his inventiveness.
"I bootstrapped my company — I didn't have tons of money to get it off the ground," he said, noting one similarity to working in a mid-sized city with modest budgets. "We don't get tons of funds. That means I've got to get scrappy. There's always a solution, even if there's duct tape and glue involved."
Hanson thinks Raspberry Pi — small, flexible computing devices that a child can program — are a perfect low-cost hack for cities to experiment with. He's looking to use them for everything from cracking down on fast drivers (a camera on the devices can detect speed) to flagging roads in need of repair (by having city employees push a button in their cars anytime they see a pothole while driving around).
Now, as part of Mayor Adrian Perkins' participation in the Bloomberg Harvard City Leadership Initiative, Hanson is leading the charge to improve the city's use of data to make decisions. One focus is downsizing the number of fleet vehicles the city owns — Hanson has found open-source software he wants to use to prototype an Uber-like ridesharing model for city employees to get around. Another focus is boosting the share of city contracts going to minority-, women-, and veteran-owned businesses. He's begun exploring ways of using text messaging to prod those businesses to bid on city work.
"Every day, I'm challenging the idea that government works slowly," Hansen said. "Don't tell me something is going to take 18 months. I've never worked on an 18-month project in my life."
Pro tip: "You don't need super-fancy tools to get things done. Try a pilot, try something free first. If it works, it can show the need for more dollars for your initiative."