Leveraging data to drive equity and engagement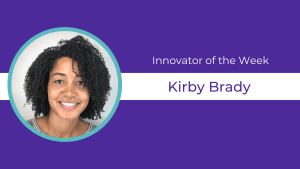 June 2, 2021
Name: Kirby Brady
Title: Chief Innovation Officer, Director of Performance and Analytics
City: San Diego
Can the road to greater equity in city services start in the neighborhood library? Kirby Brady thinks so.
Brady runs the performance and analytics department in San Diego, a 15-person shop that's used data for specific projects like centering equity among the city's library branches as well as broader initiatives such as quarterly satisfaction surveys of employees and citizens.
The department's staff includes software developers who work on apps like the 311 customer-service platform, process-improvement specialists who troubleshoot to improve workflows in city departments, and a data analytics team that cleans, publishes and maintains data sets for the public good.
"We come together as a small team, focused on doing some high-value, high-impact projects, especially now that we're attached to the mayor's office," which happened after Mayor Todd Gloria took office in December, Brady said. "Our areas of focus include bridging the digital divide, reimagining public spaces like libraries and parks coming out of the pandemic, and trying to find innovative ways to build pathways to middle-skill jobs."
With an educational background in urban planning and demography, Brady has worked both in nonprofits and local government; she's been in her current position since January 2020. "Place is important to me," she said. "I'm very, very interested in how the places in which we live shape our lives, and in some ways become determinants of economic, health and social outcomes."
Brady and her team used analytics to examine how donations to local libraries tend to flow toward affluent neighborhoods, resulting in a resource imbalance. "We're talking about threading equity into city services," she says. "We worked with them to develop a model to equitably distribute funds, [and] provide additional resources for libraries in historically underserved communities. We used analytics to drive that and see what outcomes would be."
Her department also has been surveying people at homeless shelters to better understand their needs, which has led to the concept of creating "Love Lockers" built by the city for people to donate items residents experiencing homelessness say they need, such as used laptops.
"People in the community could see a real-time ticker of needs in their community and make a contactless drop in a secure locker," Brady said. "It would be infrastructure to allow people in the community to connect directly and solve the challenges of the homeless community."
Pro tip: "When you're listening to the community, you're not only understanding their challenges and needs, but also directly asking them what the solutions are."