​
Israeli mayors up their game with leadership training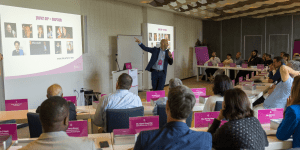 In Israel, as in much of the world, local governments run the services that touch residents' daily lives and impact wellbeing, such as education, health, social welfare, water, sewers, sanitation, parks, sports and culture. Yet the mayors and managers in charge of these critical services have not had access to executive training specifically focused on the unique challenges and responsibilities of local leadership. 
That changed last month when the Bloomberg-Sagol Center for City Leadership welcomed its first class of 20 mayors and municipal heads from across Israel. The local leaders kicked off an intensive, yearlong training that will equip them with tools and skills to deliver better and more equitable public services to residents, promote social and civic bonds, and plug into Bloomberg Philanthropies' global network of innovative city leaders. 
"Local authorities are the focal point for citizens," says Professor Moshe Zviran, who heads the Bloomberg-Sagol Center for City Leadership at Tel Aviv University. "Improving management of the cities will play a major role in the life of individuals in this country."
The program for Israeli mayors is inspired by the success of the Bloomberg Harvard City Leadership Initiative, which over the past five years has delivered top-flight executive training for 196 mayors from 25 countries. Yossi Sagol, Chairman of Sagol Holdings Corporation, began working with Bloomberg Philanthropies in 2018 to develop a similar program adapted and contextualized for Israeli mayors. The Bloomberg-Sagol Center for City Leadership is a partnership among Bloomberg Philanthropies, the Sagol Family, and Tel Aviv University. 
During the program's first three-day session, the mayors learned about leadership styles, methods of exercising power and exerting influence, networked leadership, and more. Lessons were structured around roundtable conversations and simulations, which the mayors found engaging and poignant to their everyday challenges. High-caliber training like this is common for private executives but almost unheard of in the public sector. 
"Nobody in Israel teaches mayors how to be mayors," says Ran Kunik, Mayor of Givatayim, a city of 64,000 just east of Tel Aviv. "So to learn about different types of management and leadership and ways of solving problems is very important and useful to us."
Kunik, who has been mayor for eight years, says it can be easy for mayors to get drawn into the minutiae of running services when what's needed from them is high-level leadership and vision. In Givatayim, he says, that big-picture thinking is needed to guide the city's continued growth within a small footprint of land, which means engaging residents in a different future that will include taller buildings.
Kunik says the Bloomberg-Sagol program is already helping to sharpen his focus on what's needed for this broader transformation. "We're not supposed to be the managers—we have to be the leaders, and we are learning how to do that," he says. "We have to create the vision, and to make difficult decisions—decisions that in many cases people don't understand now but will appreciate ten years from now."
Like the Bloomberg Harvard program for mayors, the Bloomberg-Sagol program includes a separate track for two senior leaders picked by the mayors to receive a similarly rigorous yearlong training program tailored to the needs of high-level managers in local government. 
This is a key strength of the program, says Oshrat Gani Gonen, Mayor of South Sharon Regional Council. A week after she kicked off her own training with the mayors, Gani Gonen sent her Human Resources Director and Head of Culture and Youth to begin theirs. They came back just as excited about driving more innovation in local government and using the same vocabulary to describe how to do it.  "They're getting all the tools so we can talk from the same page," Gani Gonen says. "It's empowering the core human capital of the council."
Gani Gonen says another key benefit of the program is getting to network with other mayors. She's building relationships with local leaders from all across Israel, including Jewish- and Arab-led communities, and exchanging lots of ideas and lessons learned about how to solve local problems. "I heard from my peers that they have the same challenges I do—to find housing solutions and to preserve the environment," she says. "Through the peer learning, it is possible to see that there's more we share than what separates us."
[Read: Strengthening local leadership in Israel at a critical time for cities]
Over the year ahead, the mayors and senior leaders will gather four more times for in-person learning and exchange, guided by professors from Tel Aviv University. Future sessions will include lessons on crisis management, using data effectively, enabling innovation, and more, with some topics anchored around Harvard case studies that will be translated into Hebrew. In a number of participating cities, staff will get specialized training to build innovation skills, delivered by the Hazira program, also supported by Bloomberg Philanthropies. 
By the time applications open for the next class of mayors and senior leaders next year, "everybody will be knocking on the door trying to get into this program." Zviran says. "It's not just because of the prestige, but rather, that mayors perceive the importance in terms of improving their capabilities as a mayor and a city leader, and improving their chances of being reelected."