​
Introducing some of America's newest mayors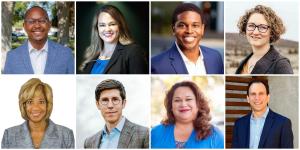 Dozens of cities across the United States elected new mayors this month. Among the crowd is a diverse group of new city leaders, ready to take on a wide array of our cities' biggest challenges. As we look ahead to 2023, here is a look at some of America's newest mayors.
Brett Smiley comes to the Providence mayor's office with deep public-sector experience. He previously served as chief operating officer to the term-limited outgoing Mayor Jorge Elorza, and ran the Rhode Island state Department of Administration under former Governor Gina Raimondo. With that background, wrote the Boston Globe's Dan McGowan, Smiley will be "more prepared to run the city on day one than any mayor in nearly a century." The incoming mayor, who will be the second openly gay man to lead the city, campaigned on a "back to basics" platform, promising to focus on public safety, snow plowing, trash pickup, and other quality-of-life issues.
More Latinas ran for local office in California's Orange County than ever before this year, a reflection of the county's increasing diversity. Valerie Amezcua is one of them, and became the county's first directly elected Latina mayor. Amezcua is a retired county probation officer and a school board leader in Santa Ana, a city of 300,000. She's pledged to expand affordable housing, reduce homelessness, and build trust between first responders and the community. "After 153 years, we need to look at who can really do the job of being mayor of Santa Ana and do it well," Amezcua told the Los Angeles Times. "And that is a Latina."
At 33, Phillip Jones is among the youngest of America's newest mayors. Born to a mother and father who were both U.S. Air Force pilots, Jones attended the U.S. Naval Academy and served six years in the Marine Corps as an infantry officer. After earning joint graduate degrees from the Harvard Kennedy School and Harvard Business School, he returned home to Newport News and served on the city's Planning Commission. Jones is focused on public safety, education, and says he will appoint a chief innovation officer as part of a plan to improve City Hall services. Speaking shortly after his election night win, Jones said: "Newport News can be a city where everyone has access to their rights, everyone can feel safe in their communities, and everyone can have a quality education." 
When Pamela Goynes-Brown was growing up in North Las Vegas in the 1960s, her city was a small suburb of 25,000. Today, it's home to 275,000 people—and still growing fast. Goynes-Brown's father served on the city council for 28 years; in 2011, she followed in his footsteps to become the first Black woman to serve on the council. Now she will become the city's first Black mayor. Goynes-Brown played a role in the city's fiscal recovery in the wake of the 2008 housing crash, and will take office amid another period of economic uncertainty. "I'm just not done yet," she told the Las Vegas Review-Journal. "We want to be a thriving community where people want to come live, work and play."
Craig Greenberg will become Louisville's first new mayor in 12 years as the term-limited Greg Fischer departs. Like Fischer, Greenberg's background is in business: He ran a chain of boutique hotels and co-owns a professional wrestling company. Greenberg has pledged to get 15,000 units of affordable housing built across the city, create a city Department of Education to coordinate with local schools, and address a deadly surge in domestic violence. In February, Greenberg survived an attempted shooting in his campaign office—a bullet ripped the back of his sweater. He responded to the attack by pledging to crack down on guns by circumventing a state law: Before guns seized by police get re-sold at auction, as state law requires, he would have those guns made unusable.
Lori Blong is the first woman to be elected mayor in Midland, a West Texas hub of the oil and gas industries. She's in the energy field herself—she and her husband own and operate a consulting business—and is coming off a three-year stint on the Midland City Council. Blong campaigned on ensuring fiscal responsibility, securing the drought-prone city's water supply, and improving customer service at City Hall. And she sees collaboration as key to how she hopes to get things done as mayor. "In Midland, If we look back over generations of mayors," she wrote recently, "we see that the most successful mayors in our history have been those who collaborated with other community leaders and members."
Back in 2014, Rex Richardson became the youngest person elected to Long Beach City Council, at the age of 30. Eight years later, he's set to become the city's first Black mayor. Richardson will replace Robert Garcia, who won a seat in Congress and endorsed his candidacy. Richardson was a popular leader in his North Long Beach district, where he guided investments in a new library and community center, and was twice elected by his council colleagues to be vice mayor. Richardson has stood on the forefront of the effort to advance racial equity in Long Beach, and has played a leadership role on a regional scale as a past president of the Southern California Association of Governments. "I will focus on tackling our city's biggest challenges," Richardson said after his win, "and working daily to make City Hall more responsive to residents' needs."
Melanie Kebler takes office in Bend at a time when soaring housing costs and rising homelessness are key issues locally. Kebler is a former prosecutor and victim's rights attorney elected to city council in 2020. She touts the council's work on initiating a more coordinated and data-driven approach to solving homelessness as a success to build on as mayor. "The next four years," Kelber wrote, "will decide whether those who work in Bend can afford to live here, whether the rise in homelessness is reversed or made permanent."