Introducing 10 of America's newest mayors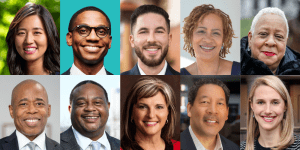 November 17, 2021
For America's next crop of new mayors, the challenges ahead are steep. The COVID-19 crisis lingers on. Crime spikes in many cities continue. Retail districts are hollowed out. Housing prices are rising fast, and homelessness remains a stubborn problem in many cities. 
And yet these mayors will take office at a consequential time when mayors can lead their communities into the post-pandemic era. Federal aid to cities will make transformational changes possible at the local level. Meanwhile, many cities are poised to turn budding conversations about how to accelerate racial equity into new policies and approaches tied to real budgets.
The incoming class of mayors is an especially diverse one, with many historic firsts in terms of race and gender. This month, nine cities above 100,000 population elected new mayors who are Black and three elected new mayors who are Asian-American. As we look ahead to 2022, here we take a look at 10 of America's newest mayors. 
Michelle Wu, a 36-year-old daughter of Taiwanese immigrants, is the first woman, first person of color, and first person of Asian descent to be elected mayor in Boston. Wu got her start in Boston City Hall 11 years ago as a legal fellow, where she set up a website to help restaurant owners navigate the city's permitting processes. She was elected to city council at age 28 and later became council president. As mayor, Wu has pledged an ambitious agenda that includes making public transportation free, boosting Black-owned businesses, and a local "Green New Deal" that, among other things, would move the city to 100-percent renewable energy by 2030. "We don't have to choose between generational change and keeping the streetlights on, between tackling big problems with bold solutions and filling our potholes," Wu said on election night. "We need, we deserve, both."
Justin Bibb was 19 years old the last time Cleveland elected a new mayor. Now 34, he will become the city's first new mayor in 16 years when he takes office in January. A nonprofit executive and a relative-unknown before this race, Bibb campaigned as an outsider who will use data and technology to help solve the city's challenges. In his nonprofit role, Bibb helped cities use data to be more efficient. One of his first orders of business will be changes in policing, as voters passed Issue 24—a charter amendment giving civilians increased oversight of the Cleveland Police Department. Another one will be allocating $511 million in federal funds from the American Rescue Plan, which could help jumpstart redevelopment in America's poorest big city. "The work is just beginning," he said on election night. "Tonight we will celebrate, and tomorrow we are going to roll up our sleeves and do the hard work of moving our city forward, in a better direction."
Dearborn joined two other Detroit suburbs—Dearborn Heights and Hamtramck—in electing ts first-ever Arab-American and Muslim mayor. Mayor-elect Abdullah Hammoud, a 31-year old son of Lebanese immigrants, recognized the historic nature of the moment: "You need not shy away from a faith that might have been ridiculed, and you need not shy away from a name that might not be so common," he told the Detroit News on election night. "You can run for public office and you can be in any sphere of American society." Hammoud's agenda includes shoring up Deaborn's infrastructure following devastating floods last summer, reducing property-tax rates, and cracking down on reckless driving. Voters "want accountability, transparency, and innovative solutions," Hammoud said. "You want bold leadership and a resourceful city government that matches your passion for the city. That's the type of change we can, and will, deliver."
 Elaine O'Neal, 59, who was raised on Durham's West End and calls herself "a daughter of this city," will become the city's first Black female mayor next month. O'Neal's entry into politics came as a volunteer for the Durham Committee on the Affairs of Black People, after which she served 17 years as a state District Court judge before moving to the state Superior District Court in 2011. In 2018, she was selected as interim dean of the North Carolina Central University School of Law. And in 2020, she was appointed co-chair of Durham's Racial Equity Task Force, which produced a 60-page report urging the city to set up a reparations program to address the racial wealth gap and to confront inequity in the legal system, public health, housing, and education. A key priority for O'Neal as mayor will be addressing rising gun violence in Durham—she plans to create an Office of Gun Violence for the city, where deadly shootings are up by almost 30 percent this year. "You have to engage in the streets and go and talk to young people about who they are and what they need," O'Neal said on election night.  
Former City Council President Wanda Williams, 68, becomes mayor in Harrisburg, Pa., after a campaign that emphasized her deep roots in the community. She becomes the city's second Black mayor as well as the second woman to hold the post. A City Council member since 2005 and a one-term Harrisburg School Board member prior to that, Williams characterized her bid to unseat two-term incumbent Eric Papenfuse as a career capstone. "I've been in the trenches with you," she said at her campaign announcement in March. Key issues for Williams will be continuing Harrisburg's economic recovery from a $360-million incinerator debt crisis that led the city into state receivership from 2012 to 2014. Williams also brings personal experience to the fight against gun violence: Her granddaughter was shot and killed in 2013 while standing on a porch near an open-air shooting.
As a teenager, Eric Adams was beaten by police officers; he went on to become a cop himself, seeking to fight racism from within NYPD by founding the reform group 100 Blacks in Law Enforcement Who Care. Now, as the incoming mayor of America's largest city, Adams pledges to make improving public safety his top priority. One plan is to reestablish a recently disbanded plainclothes police unit to crack down on gun crimes. Adams, 61, who most recently served as Brooklyn Borough President, will enter office backed by a broad coalition that includes both business and labor unions. He plans to cut red tape for small businesses and grow the local life-science industry; to create a single app where residents can sign up for and access services; to boost childcare for families who can't afford it; and increase funding for parks, among other things. "I want to be considered a 'G.S.D. mayor,'" Adams told the local news network NY1. "Get stuff done." 
Ed Gainey made history in Pittsburgh, when he was elected as the city's first Black mayor. The 51-year-old native of the city ran on a platform of "livabiity," which addressed public safety, the environment, the economy, inclusion, diversity, and unity. Gainey, who has served in the Pennsylvania House of Representatives since 2013, also aims to focus on police reform that centers on community policing and a reduction of what he has called "over policing" and militarization. While Gainey's administration will face big challenges related to housing affordability and economic growth, he'll have $300 million in American Rescue Plan funds to help bring his policy goals to life.
Monica Zoltanski is the first woman to be elected mayor in Sandy, a city of nearly 100,000 that sits just south of Salt Lake City. She's also part of a wave of women elected to lead local governments in Utah, where seven of the 10 largest cities will have a woman as mayor. Zoltanski, a former prosecutor and city councillor in Sandy, is known locally for leading opposition to a plan to pave a trail in a regional park in Sandy, and promises to encourage "a sensible pace for growth that does not overwhelm our traditional residential neighborhoods."
The incoming mayor of Seattle, Bruce Harrell, 63, is no stranger to the job—he served for five days after Ed Murray's resignation in 2017. Now, he's returning after a victory over Seattle City Council president Laura Gonzales in one of the most lopsided races in recent Seattle history. Harrell will be the city's first Asian-American mayor and its second-ever Black mayor. Harrrell, who served on the city council between 2007-2019, said his return to politics was spurred by the events of the pandemic and the racial reckoning after the George Floyd protests. Harrell wants to create more of a "two-way conversation" between police and the community, and has called for at least $70 million of American Rescue Plan funds to be used to address homelessness.
Caroline Simmons, 35, is now the first female mayor of Stamford, Conn.—after defeating sports legend Bobby Valentine, a former Major League Baseball manager who was making his political debut. A Democrat who has served as a state representative since 2015, Simmons has promised to make school renovation, infrastructure improvements, and government efficiency her priorities in leading Connecticut's second-largest and fastest-growing city. After graduating from Harvard University in 2008, Simmons worked for Barack Obama's first presidential campaign—the former president endorsed her campaign—and later served in a counterterrorism role in the Department of Homeland Security. The mother of two young sons, Simmons announced during the campaign that she and her husband are expecting their third child. "Today voters embrace the belief that we can emerge stronger from this pandemic," she said after winning earlier this month, "if we work together, support each other, lift each other up with kindness and love and unite around a common goal of making Stamford a city of opportunity for everyone."