How some cities are pulling off socially distant social actions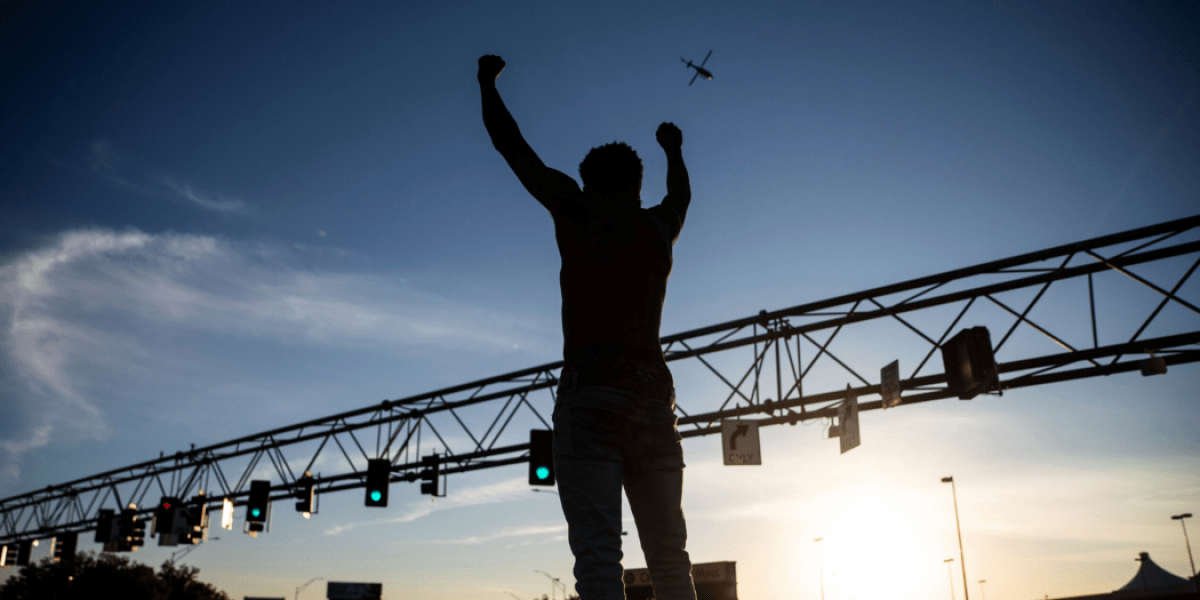 June 5, 2020
As protests against racial injustice swell across the U.S., mayors are urging demonstrators to wear masks, use hand sanitizer, and get tested for COVID-19. Maintaining six feet of physical distance? That's been tough.
But not impossible.
A growing number of cities are seeing "rolling protests" of demonstrators in their cars, peacefully honking horns and waving Black Lives Matter signs. At one such caravan of 200 cars rolling through five Detroit-area communities last weekend, participants said social distancing was just part of the appeal. "I'm in my 60s," demonstrator Tamika Kennedy told WXYZ News from behind the wheel of her car. "So I can't march like I did when I was 20, 30, or even 40."
Similar caravans have popped up this week in Montclair, N.J., Oakland, Calif., Johnson City, Tenn., Salt Lake City, Utah, San Diego, Washington, D.C., and other cities. While they may not pack the emotional punch of being part of a crowd, organizers say rolling protests offer a safer way to make their voices heard. As Dana Fisher, a University of Maryland professor who studies protest movements, told Washingtonian magazine, the car caravan "fits very nicely in the moment" of the pandemic.
There are other ways people are making their voices heard from six feet or more apart. A number of cities are supporting efforts to "shine a light" on racial injustice: Residents are encouraged to standing outside each night at a designated time holding a candle or flashlight for 8 minutes and 46 seconds — the length of time that a Minneapolis officer kept his knee on George Floyd's neck before Floyd died. In Los Angeles, Dodger Stadium fired up its lights for the occasion on Wednesday. Mayors in Madison, Wis., Roseville, Calif., and St. Petersburg, Fla. have gotten behind local light-up efforts as well.
"This is a way to stand in solidarity and shine a light on racial injustice," Parkland, Fla. Mayor Christine Hunschofsky said while proposing the idea at a commission meeting Wednesday. "This is a way we can be physically distanced and socially connected."
Meanwhile, some cities are finding it possible to bring people together face-to-face while maintaining social distancing. In Philadelphia last weekend, demonstrators took a knee on the plaza outside City Hall, all lined up in neat rows six feet apart. In nearby Lancaster, Pa., the city has put up large vinyl whiteboards in a park adjacent to the police station, where protesters can use Sharpie pens to write about their concerns or changes they want to see in the community. It's given people another way to vent, said Joanna Davis, the city's public art manager — and for the most part, they've kept safely distanced while writing and reading each other's posts.
"Demonstrators told us they needed safe ways to get out anger and pain and demands, and so many things that need to be expressed," Davis said. "This provides an outlet." After demonstrators filled up the first board with their writings, the city is putting up three more boards, and working with demonstrators and police officers — who can write in blue pen — to start a conversation. As one of the local protest organizers posted to Facebook, the police "put this up for us! They are listening. We can get somewhere."