How to put Covid-19 in a box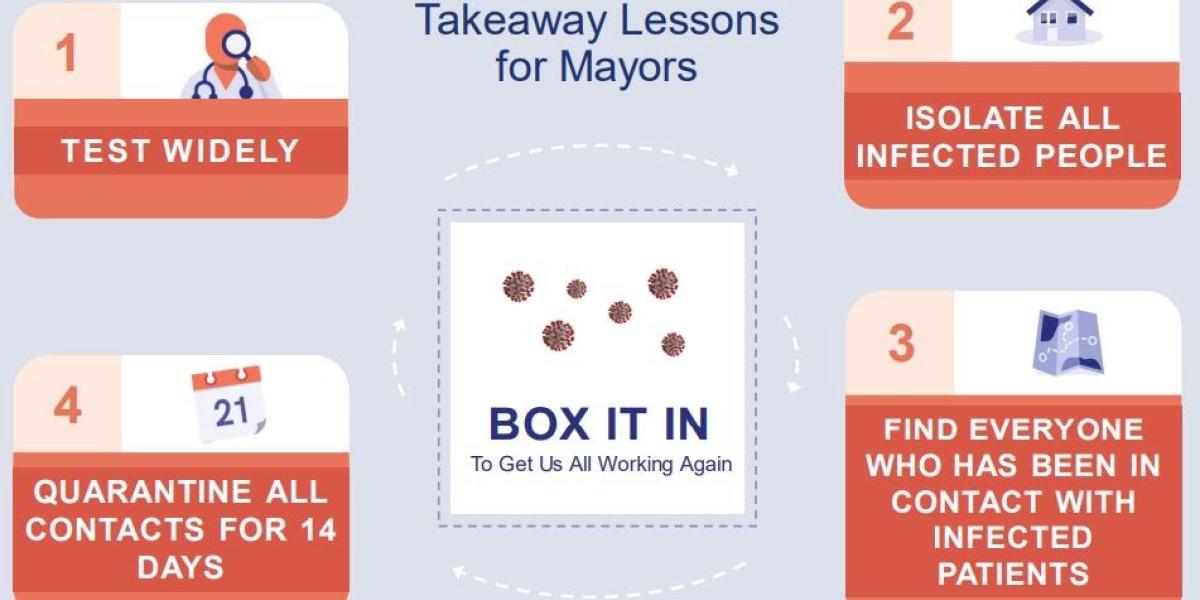 April 17, 2020
As hundreds of mayors from around the world gathered online yesterday, they did so amid promising news: The tough decisions they've made over the past month have slowed the spread of the deadly coronavirus that causes Covid-19.
But they also heard a hard reality from public health experts, including philanthropist and Microsoft founder Bill Gates: the fight is far from over. As debate builds over when and how to reopen their cities — with protests against stay-at-home orders erupting in Kentucky, Michigan, Ohio, and other states — mayors have more tough choices ahead.
Gates opened the fifth coaching and learning session of the Coronavirus Local Response Initiative with a nod to the leadership mayors are demonstrating.
"Mayors are being asked to step up," he said. "It's very impressive how quickly we've changed our lifestyles in cities and had great compliance" with social distancing measures. He said to expect April to be the peak month of the epidemic "with significant deaths still in May." When it comes time to reopen, he said to expect it to "be gradual, both in terms of government policy and in terms of individuals being willing to go out."
Dr. Tom Frieden, who was CDC director under President Obama, followed Gates with more details about the systems cities will need to have in place in order to reopen safely. In previous discussions, Frieden has encouraged mayors to think of reopening cities as akin to gradually opening a faucet that can be easily shut again if infections spiral up. He's also said they should expect the public health system to require an army of "contact tracers" to bring the virus under control.
Yesterday, Frieden warned mayors that "it's not time to relax our guard," adding that it won't be time to reopen cities until cases are no longer spreading widely and the healthcare and public health systems are able to keep up. "We need to box the virus in," Frieden said, "so that we can get out of the box we're in."
Doing so will require building up four public health capacities, which Frieden described as the four corners of the box that will ultimately contain the coronavirus.
1. Test widely. As testing becomes more widely available, it will become a critical tool for disrupting the spread of Covid-19. Continued shortages of testing kits mean "this is going to remain a pain point for some time," Frieden said. But mayors can play a role in prioritizing testing for key populations, such as hospitalized patients and healthcare workers, and people in nursing homes, jails, or homeless shelters.
2. Isolate all infected people. To prevent spread, people with the virus need to be kept away from others. That means creating safe housing arrangements for those who are sick but don't need hospitalization. Residents of nursing homes should be a priority here, as should infected people who are living with elderly relatives or people with underlying conditions. Mayors will also need to double down to ensure their messages on isolation reach every social, demographic, and cultural group in the community.
3. Find everyone who has been in contact with infected patients. "Contact tracing" has been in the news a lot this week, especially the need to scale up the activity to levels never seen before in the U.S. While the staffing needs are great, Frieden reassured mayors that the practice of contact tracing — which involves tracking down and warning every person who's been in contact with someone infected with the virus — is a tried-and-true public health method. "This really is about one person talking to another person and telling them: 'You may have been exposed,'" he said.
4. Quarantine all contacts for 14 days. Not every person who's been in contact with someone who tests positive will come down with Covid-19. But to prevent further spread, it's critical that all contacts go into quarantine for two weeks. That means staying home the whole time — no trips to the grocery store or other outings allowed by stay-at-home orders. "All those who have been exposed have a duty to quarantine themselves, so that the virus, if they get it, stops with them," Frieden said. Fourteen days is a long time, he acknowledged, so it's important that cities consider wraparound services and incentives to enable people to stay in quarantine, including anything from high-speed internet with free Netflix to food deliveries and tele-health services.