​
How to improve police recruitment in your city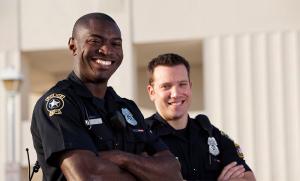 Police departments across the country are looking for innovative ways to strengthen ties to the communities they serve. And, at the same time, many are hoping to boost the sagging number of police academy applications — expected to increase by only four percent over the next seven years, compared to seven percent for all other professions. New work from Chattanooga, Tenn., and San José, Calif. is showing that police departments can address both challenges by changing how they market the job to potential recruits, especially if they focus on attracting candidates from diverse backgrounds.
Both cities, members of Bloomberg Philanthropies' What Works Cities initiative, have partnered with The Behavioral Insights Team (BIT), a government unit dedicated to behavioral science, to transform their outreach and recruitment strategy. Here, we share what's worked.
Diversifying police forces
Looking to diversify their force, Chattanooga's police department launched Each One Reach One in 2016, an initiative in which non-profit groups like the Urban League of Greater Chattanooga and the Community Foundation of Greater Chattanooga raised money and offered cash incentives to community members who facilitated the recruitment of a minority candidate. Made possible by a $10,000 grant provided by the Community Foundation of Greater Chattanooga, members of the community who recommend a minority candidate, and who was later successfully accepted into the Police Academy, were awarded $500. Separately, they launched the Emergency Services Minority Internship Program, a partnership between Chattanooga's police and fire departments, as well as the Hamilton County 911 Unified Emergency Communications District.
Despite the efforts, however, more needed to be done. Based on the number of recruits, the city estimated they would not reach their goal in 40 years. "We knew what we were doing wasn't enough to achieve our goal," said Michael Baskin, Chief Policy Officer at the city of Chattanooga. "We want to make people feel safe in our city and make sure the police department reflects the community it serves."
A member city of Bloomberg Philanthropies' What Works Cities, Chattanooga was approached by the program with an opportunity to improve their police forces with the help of BIT. "We didn't know what worked, so we tested what could work," added Baskin.
Together with BIT, the city tested several messages on postcards to identify which job advertisement was most effective to increase the number of applications — particularly those from people of different racial and ethnic backgrounds. After sending out four different versions, the team discovered that messages emphasizing community service had less appeal than messages that focused on the challenge of the job and career benefits, which were more than three times as effective as the control and almost twice as effective as the community impact messages specifically for people of color and women.
Changing methodology
Turning in the application is only part of the process, however. BIT worked with the city of San José, Calif., to test different approaches on how to persuade eligible candidates to complete the process after submitting applications, as a considerable number were dropping out of the recruitment process after submission. To "reactivate" applicants, the team designed an email form requesting applicants to choose a self-imposed deadline for taking their tests and submitting test scores. Once they submitted the form, applicants received a follow-up email confirming their preferred deadline date and a reminder again on the day of the test.
"This was an opportunity to test and see what other work we could do using a low-cost methodology, like using email, to attract more applicants," said Erica Garaffo, Data Analytics Lead for the Office of Civic Innovation and Digital Strategy in San José.
According to Garaffo, the work to improve how San José attracted new police recruits has paid dividends in other areas. "BIT offered expertise we wouldn't otherwise have access to and that worked well in several dimensions, like rewriting correspondence that had a lot of jargon," she said.
The data collected and analyzed by BIT and What Works Cities demonstrate two successful and cost-effective approaches others can replicate to make their police departments more reflective of the communities the officers serve. Investing in diversity can help departments reduce negative perceptions of police officers, allowing them to connect with citizens better. "For us it was a moral choice," said Baskin. "The way things were created a bias that dropped people out of the process and didn't allow them to be involved. Our obligation is to revise the structure and make sure it's fair."