How Detroit pulled off a COVID memorial like no other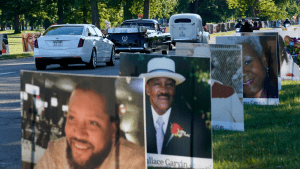 September 4, 2020
Detroit has lost more than 1,500 residents to COVID-19 — a toll that, especially in the horrific early days of March and April but continuing ever since, has been hard for many people to process.
Residents took a step toward healing this week with a memorial service unlike any other. On an island of parkland in the Detroit River called Belle Isle, the city stationed billboard-sized photos of those lost to COVID. There were 907 photos in all, sent in by victims' families, and they were positioned along more than two miles of roadway, one after another. Carloads of mourners drove past the photos of their loved ones in 15 separate processions, led by hearses provided by local funeral homes.
As the U.S. approaches 200,000 deaths due to COVID-19 — a grim milestone we will likely meet this month — and with little solace coming from national leaders, it's fallen to local officials to create space for residents to remember, grieve, and try to move on. Doing that while promoting social distancing is a challenge. Chicago has created a "virtual memorial wall," where residents can share photos and stories of family members they've lost. Washington, D.C., held a moment of silence, Houston hosted a virtual conversation with faith leaders, and many other cities convened remembrances on a National Day of Mourning and Lament in June organized in part by the U.S. Conference of Mayors.
Detroit's "Memorial Drive" was arguably the most ambitious event so far to honor the lives of those lost. To learn more about it, Bloomberg Cities caught up with the woman who made it happen, Rochelle Riley, the city's Director of Arts, Culture & Entrepreneurship.
Where did the idea for having a Detroit Memorial Drive come from?
Rochelle Riley: Back in March, we began to realize just how bad the pandemic was — we were losing so many people every day. The mayor has regular conversations with constituents and they began to be Zoom calls because we started social distancing. And on one of those calls a resident said, "We can't have funerals. We need to have something that can be an outlet for our grief."
Mayor Mike Duggan turned to me and said, "We need a memorial." There were no instructions. But the mayor and I have known each other for a long time. And he put me in this job to do these types of cultural events and transformative things for the city. And he just said, "Come up with something." This was very personal for me. In the first 10 days of COVID, I lost eight friends. I would literally get a call every day. And all I could think about was missing seeing them.
How did you arrive at the idea of a drive around Belle Isle with the pictures of those who've died?
I knew I had to come up with something that didn't require gathering. My first thought was to have the whole city just gather along the Detroit River and throw rose petals out into the water — well that's littering, and that's not possible. Then I thought of Belle Isle, and maybe we could do something out there that wouldn't require people to be close.
There's an annual event here called the Dream Cruise, where older cars drive up and down Woodward Avenue in a celebration of the American inventive spirit. Well, that was canceled. And I said, well, maybe we can have a Memorial Cruise, but do it around Belle Isle. But we can't just drive around and look at nothing, so let's look at the faces that we've lost.
I contacted a few sign companies and said, I need billboards of photographs, and I need you to install them into the ground so that they can stand. And I found a company that was willing to do it, and we asked families for photos and the whole thing came together in about a month.
What did this mean for you personally? And what stories have you heard the past few days that have touched you?
There are pictures of my friends out on the Island. And so what I planned is a funeral as if I were planning it for one person instead of 1,500. Everything that we would do for any funeral we would do for this funeral.
Our Lieutenant Governor, Garlin Gilchrist, spoke at the opening of the procession, and he talked about how he had lost 20 people that he knows very well. That is the Detroit story. I was talking to a friend of mine, and she said she'd not been feeling like herself since her dad died. I said, "What are you talking about?" And she said, "Oh my God, I forgot to tell you." Because we're quarantined, we're not talking to each other every day. We're not seeing each other every day. And people were just dying.
So we had 15 funeral processions, led by 15 amazing, generous funeral homes who brought hearses. They were empty — nobody was in them but the spirit of the folks that we've lost. The 900 photos on the island represented the 1,500 that we lost. We rang bells for 15 minutes at the beginning of the first processional. All of the photos were spaced around the Island for two and a half miles. And those 15 funeral processions went around just as if they were going to a cemetery for one person. It brought some closure and peace to a lot of folks based on all of the phone calls and emails that I've been getting nonstop.
Why is it important to stop and reflect and mourn in this way?
Because people didn't have an opportunity to stop and reflect and think when people died. I mean, people literally died in hospitals, away from their loved ones, or died unexpectedly within days of becoming sick with something that no one really understood. And there was no funeral, there was no gathering, there was no reflection. There was no moment to chat about someone's life and to have that revelatory journey back through what they meant. Everyone was just snatched away. There was never a peaceful, quiet moment to have some closure.
I had two reasons to do this. One was to provide some closure and some peace, as much as you can, for families who didn't have it. We're walking around, all of us, probably suffering from some type of traumatic stress, and we just need that. The other is to make sure people understand how real this pandemic is. You cannot drive around an island and look at 900 faces of people who were alive this time last year and not understand that these are human beings who are being snatched away from us.
What was the infrastructure behind making this happen?
In my office, there are just two of us. So we partnered with almost every department in city government to reach out and help. And the amazing thing was, no one said no. Our Department of Neighborhoods, which has district managers and employees all over the city and know people like no one else can — they stepped up. The woman who's responsible for our volunteer effort stepped up. Every time something came up, I called somebody at city hall and said, we need this. And they said: OK.
We asked for hundreds of volunteers, because as people drove around the island they could not stop and get out. We needed to make sure there were people there very generously and respectfully reminding them of that. And then we had volunteers at the staging area to stage those 15 funeral processions around those hearses. Some of the funeral homes stayed all day. The very first one was done by the Swanson Funeral Home, which is an iconic funeral home here — they handled the Aretha Franklin funeral. And they brought out the Cadillac LaSalle, this beautiful car, to lead that first procession.
And that was it. It was literally funeral processions. Nobody was too close to each other. Nobody was unmasked. Nobody got anybody in danger and everybody had a chance to take one last look at someone they loved.
Do you have any lessons you'd offer to city leaders in other places who might be thinking of doing something like this?
Well, I've already had three calls. And the only advice I would give to anyone who's doing this is to make sure that you reach out to the people in your city government who know the residents. Our Department of Neighborhoods is an unusual department — not every city has one — but they work in the neighborhoods. They know the residents by name. They eat pound cake at their houses. Use what you have.
We're hard-hit by COVID. Our budget is a mess. The mayor has been amazing. Our CFO has been amazing to keep us in decent shape. You have to use the budget that you have, you have to use the people that you have, and you have to be willing to work really, really hard, which we've done for 30 days straight. We did not spend one dime of city money and we made people feel better.