Homelessness: Cities move from quick fixes to long-haul solutions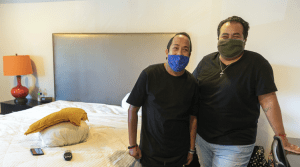 September 22, 2020
In the early days of the COVID-19 pandemic, city leaders acted quickly to protect residents experiencing homelessness. Many cities turned hotels, convention centers, recreation halls, and other unused spaces into shelters. That allowed people at existing shelters to maintain social distance and gave those who needed to quarantine or recover from infection a safe space to do so.
While those early days are behind us, the virus is not — and thousands more have become homeless due to the pandemic's economic turmoil. Rather than waiting for a vaccine to return things to "normal," cities are getting creative about turning short-term responses into long-term solutions. For example, Seattle is putting $60 million toward building nearly 600 units for chronically homeless residents, the city's biggest single-year investment in permanent supportive housing ever. In San Diego last week, the city's Housing Commission agreed to purchase two hotels to house up to 400 people who have been temporarily living at the city's convention center.
One of the most innovative plans comes from Houston. There, the city is joining with Harris County and the Houston Coalition for the Homeless on a $65-million plan to house almost 5,000 people who are either experiencing homelessness or are on the brink of it. Notably, the plan will be paid for almost entirely using federal funds, with 70 percent coming from the federal CARES Act and other emergency sources. As Mayor Sylvester Tuner explained: It's a "crisis response program" that "will also have a major long-term impact."
For Houston, it's the latest move in a push to end homelessness that has been building since 2011. In that time, the city has housed more than 18,000 people and reduced its homeless population by more than half. Following Hurricane Harvey in 2017, the city came upon a new way to leverage federal relief aid to quickly house 800 people left homeless by flooding. City leaders skipped temporary Band-Aid interventions and moved straight to long-term solutions, according to Marc Eichenbaum, Mayor Turner's Special Assistant for Homeless Initiatives. "It was the first time we'd used housing as a crisis response," Eichenbaum said.
Houston's COVID-19 approach builds on that experience. The city and its partners have pieced together federal funds from a dozen different sources to build a plan with three major components:
1,000 chronically homeless residents — people who've typically lived unsheltered or in encampments — will benefit from a "bridge" to permanent supportive housing that comes with extensive social services.
1,700 people — mainly those who have been living in shelters — will get "rapid rehousing" that entails short-term rental assistance for up to 12 months along with case management.
2,000 people who are at serious risk of becoming homeless will receive a range of supports — such as a few months' rent or family mediation — to keep them housed.
According to Eichenbaum, the plan amounts to a "moonshot moment" for Houston — an opportunity to mix bold leadership with federal funds to make another major dent in the city's homeless population. "This is not the time to be paralyzed and in fear of risk," he said. There's opportunity to "look for the long-term play here."
[Read: COVID-19 and the homeless — how cities can turn temporary measures into permanent gains]
Eichenbaum offered a few lessons from Houston's experience for other cities who are interested in turning short-term emergency responses into long-term homelessness gains.
Collaboration is key. For years, Houston's strong results around homelessness have grown out of strong partnerships between the city, county, and community partners who run most of the programming. That's been true during COVID-19, as well. "Elected and local leaders can make the call to action, but the city cannot do it alone," Eichenbaum said. Collaboration includes working closely with federal agencies like Housing and Urban Development, and talking regularly with counterparts in other cities about their experiences. "A week doesn't go by when I'm not talking to people in other jurisdictions," Eichenbaum said.
Think comprehensively. Houston's approach speaks to the wide array of situations that residents in need may find themselves. On one end of the spectrum are intensive support services for the most vulnerable residents who have been living on the street for some time. On the other end are supports tailored more toward preventing people from becoming homeless in the first place. In addition, the city is running quarantine and isolation shelters, a mental health recovery center, specialized COVID-19 testing for residents experiencing homelessness, and more. "We are using federal COVID dollars at every single stage to make sure we get this program up and running quickly and having a major impact," Eichenbaum said.
Patching together federal funding requires patience and persistence. Houston's plan draws on multiple federal funding streams flowing through the city, county, and state level, as well as some private funds. There are different sets of rules for each . Some of the dollars must be spent by the end of December; others extend longer but have different strings attached. "It's a jigsaw puzzle where the pieces continuously change on you," Eichenbaum said. "That's probably the biggest barrier for folks doing this."
The surge in homelessness may not come right away. One lesson Houston took from Hurricane Harvey is that it can take months or years after a crisis hits before the effects begin to materialize. In the beginning, "individuals are scrappy and resilient and spending whatever savings they have, and living with relatives or friends. When all that runs out, that's when we find individuals falling into homelessness," Eichenbaum said. With COVID-19, there's "a growing tsunami that is building and we want to be prepared for."