​
Fixing trash collection by strengthening dialogue with residents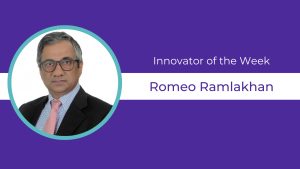 Title: Chief of Staff 
City: Santo Domingo, Dominican Republic 
In Santo Domingo, city leaders too often have thought about innovation as a way to improve technology and not necessarily the lives of residents. 
Romeo Ramlakhan wants to change that. 
Ramlakhan, who is chief of staff to Mayor Carolina Mejía and a newcomer to city government, has been an eager participant in the 2022 Bloomberg Harvard City Leadership Initiative's innovation track, focusing on a persistent waste collection and disposal issue in one Santo Domingo neighborhood. 
One day when taking his two dogs to the vet, Ramlakhan took a side road that he seldom used and encountered mounds of trash by the road. He called the city's waste management director and they found that, contrary to appearances, garbage trucks were regularly going through the area several times a day. 
"We couldn't figure out why people would be taking their trash out at times when the trucks weren't coming," Ramlakhan says. "And when I was told that this was happening in other parts of Santo Domingo, it seemed like a great problem to study in our innovation track." 
Which meant doing a number of things that the city wasn't used to doing. First, Ramlakhan gathered an array of city officials from departments that often had no role in waste management to help study the problem from new viewpoints. Then, the team set out into the impacted community for a series of listening sessions.   
As is so often the case, Ramlakhan's team found that residents knew best. The problem turned out to be that some roads were too small and narrow for garbage trucks to safely get down—and residents from those areas were dumping their trash on main roads. That insight led the task force to look for ways to get garbage service into difficult-to-access areas, while continuing a dialogue with residents. 
"People want to help in keeping their neighborhoods clean," Ramlakhan says, "but no one from city hall has ever approached them and said, 'Listen, let let's do this thing together'." 
His hope is that if the trash collection project is successful, more multi-departmental task forces can be formed to innovate around problems throughout city government. 
"We hope this pilot will give us sufficient momentum to replicate in other areas," Ramlakhan says. "We cannot just keep doing the same thing, expecting different results. We have to take a better look at what is going on with problems affecting the city and look for innovative solutions." 
Pro tip: "Don't be afraid to experiment—to commit errors and learn from them."