Engineering an innovative culture in South Bend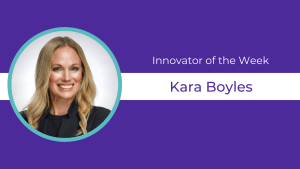 March 10, 2021
Name: Kara Boyles
Title: City Engineer
City: South Bend, Ind.
When Kara Boyles got her start in the male-dominated profession of engineering, she said she often got stuck at her desk while the men on her team went into the field  "to do the fun stuff." Now, as South Bend's first female city engineer, she is setting a different tone. Boyles' office is in charge of all the city's public works construction. More than half the staff are women. "I love that I have an opportunity to create an environment for other women to actually have a female boss," she said. "That was never something I had."
She's also looking to build an innovative culture. Boyles is part of a cross-departmental team getting intensive training in how to use human-centered design to solve problems in ways that put residents' needs first. The problem they're working on: Finding ways to help residents with low incomes pay their utility bills. 
It's a topic Boyles cares about deeply. As the city engineer, she's often in the position of advocating for rate hikes to pay for rising construction costs—even as she understands that some residents can't afford to pay higher rates. Through the innovation training, Boyles and her colleagues have been interviewing tenants and landlords to get a clear picture of what challenges these residents face. They've come up with 11 ideas for boosting residents' participation in a customer-assistance program and are getting ready to begin prototyping them with residents. 
One of those ideas would offer low-income residents incentives to sign up for the opportunity to save money on their utility bills. Another would coordinate with other social services agencies to create a universal application for local assistance, in hopes of making it simpler for residents to access a variety of aid programs. Along the way, Boyles is challenging her problem-solving instincts to keep her mind open to solutions she didn't see coming. "It's been a great awareness for me to stay in the moment and keep my engineering brain from walking through the 'what ifs' and to create boundary conditions," Boyles said. Innovation, she continued, "is about having no boundary conditions and thinking outside the box."
Pro tip: "Question the status quo. Just because we've always done something a certain way doesn't mean there isn't a way we could do it better."