Digital transformation requires perseverance, says Sofia innovator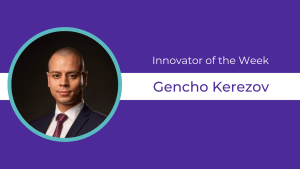 December 8, 2021
Title: Deputy Mayor
City: Sofia, Bulgaria
When Gencho Kerezov took over last year as Sofia's Deputy Mayor in charge of digital transformation, he wanted to know: How many people were using the city's electronic services? The answer? Not many. In the first six months of 2020, there were 71 services that had been used less than 400 times. This in a city of 2 million residents.
"We did have digital services, but nobody was using them," Kerezov says. "They were not built in a way that a modern customer, or citizen in our case, can use and use flawlessly."
Kerezov and his team set out to reverse this. And their participation in Bloomberg Philanthropies' Digital Innovation Initiative in Europe gave them a good place to start. They picked a very common but bureaucratic task residents must do with the municipality—registering that they've moved to a new address. And they set out to rework it using human-centered design principles. 
That meant starting with users. Kerezov's team interviewed more than 100 property owners, tenants, students, and others who've used the old system. They heard lots of complaints about confusing steps and time wasted having to physically go to the municipal offices to sign paperwork. What they wanted, Kerezov says, was a clearer process, and to be able to complete it without making a trip.
Kerezov's team built a new way to do exactly that using a smartphone. The big breakthrough involved finding the one vendor whose technology for verifying digital signatures complies with Bulgarian law. Users also need to scan their ID and show their face on the phone's camera so that a worker at City Hall can verify their identity. The municipal council helped the effort by waiving a small administrative fee users must normally pay for this transaction. "It really spares a lot of time for the citizens to not have to input their credit card details, et cetera," Kerezov says.
The city is testing out the new process in just a few neighborhoods, and the uptake is substantial. After only a few months, a quarter of all registrations in those areas were completed digitally. Kerezov hopes to use this momentum to not only expand the address service to the rest of the city but also to one-by-one overhaul the city's other digital services. "We have to make these services user-centric, with a design that is very simple, elegant, and linear," Kerezov says. "We have to make it easy to use, so that it's actually a pleasure to get what you need from the city online." 
Pro tip: "You need to be really relentless when doing a transformation project. Everyone likes change, but no one likes to change."