​
CovidActNow: A site to help local leaders take fast, effective action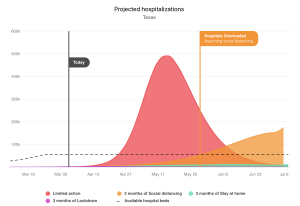 In December, former Google Cloud executive Max Henderson grew so worried about the coronavirus that he began building a model website that could help local and state leaders "cut through the noise" and make quick and effective decisions.
In just the past week, 10 million visitors came to CovidActNow.org, a volunteer effort that now offers open access to statewide projections on Covid-19 infection rates, hospitalizations, and hospital overload as a result of the pandemic. The team also takes requests to customize data to local needs. "This is a thoroughly American exercise," Henderson says of the motivation that led him and three other volunteers — a group that has now grown to more than 100 — to launch the site. "We said, 'We're going to solve this damn thing ourselves.'"
Henderson, who was pursuing his own emergency medical service certification as the crisis began to build, says his goal with the site was to create a set of publicly available data that would help policymakers "cut through the noise [and] the reactionary headlines that come in every day with numbers out of context."
What started out as a newsletter with about 1,000 subscribers moved to the current larger platform at the urging of Alaska State Rep. Jonathan Kreiss-Tomkins, who told Henderson his state had no sophisticated modeling to use and that he suspected that many other state and local leaders didn't either.
Now, Henderson says, he wants to help ensure that no intensive care unit in the country "gets overrun to the point that crisis care gets implemented. That just can't happen."
The architecture of the site is simple: You click on a state and then see projected hospitalizations and a date for projected hospital overload as a result of four different state and local responses to Covid-19: limited action; three months of shelter-in-place with poor compliance; three months of shelter-in-place with strict compliance; and three months of lockdown.
For Alabama, for example, the site projects that shelter-in-place must be implemented between April 10 and April 15 to prevent hospital overload. (The site's methodology and assumptions are outlined here.)
Henderson says more than half the 50 states and several hundred cities and counties, most of which don't have access to the sophisticated modeling available to larger cities, have contacted his team. Dallas County in Texas, for example, cited CovidActNow.org publicly as one of the reasons county officials implemented a shelter-in-place order on March 21. City officials in Anchorage also took the site's data into account before putting a "hunker down" order in place on March 20.
Henderson says common questions from city and state officials are about how the model works and if the data can be customized down to the city or county level, which he says his team is always willing to do. (Government agencies should email gov [at] covidactnow.org (gov[at]covidactnow[dot]org) with questions.) The site's initial version was seen as a "before the pandemic" tool, he says, adding that they are now working to evolve a "during the pandemic" version as well as an "after the pandemic" approach.
The "during the pandemic" version will aim to give policymakers more data on the efficacy of their interventions. "'We're making this gigantic economic sacrifice, so how are we doing?'" Henderson explains. They're also working on an app that would collect real-time hospital numbers and also potentially connect hospitals to vendors of personal protective equipment.
The "after the pandemic" version will help officials make decisions on how best to ease policies so that a return to normalcy isn't accompanied by a second spike of Covid-19 infections and disorder.
The organization works as an open-source project. All the code is public — anyone can copy it, and anyone can contribute to it. There's a private chat channel for anybody who wants to join the effort, but a small unpaid leadership group gets further screening and takes part in daily calls and video chats. The team behind the effort includes a number of technology executives, as well as Dr. Nirav Shah of Stanford University and Rebecca Katz of the Georgetown University Center for Global Health Science and Security.
There's no question that the world is a completely different place than it was three months ago. One thing that hasn't changed is Henderson's hopes for what has become CovidActNow.org. It's important to help local leaders "take this extremely seriously," he says. "We try to make these extremely complicated decisions flat and simple for decision-makers and the general public."
Contact gov [at] covidactnow.org for more information.