​
Covid-19 and transportation: 5 things cities can do right now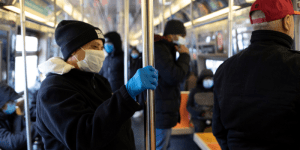 City transportation officials are responding and innovating in real time to address the growing Covid-19 crisis. Even as workplaces shift to telecommuting and travel demand drops, they're adapting to help essential employees get to work while keeping supply chains moving, residents safe, and transit workers protected.
A new resource to track all this fast-paced action launched earlier this week. A partnership between Bloomberg Philanthropies and the National Association of City Transportation Officials (NACTO), the Transportation Resource Center is designed to help city leaders stay on top of all the transportation innovations bubbling out of cities and, most importantly, help them spread quickly.
With that in mind, we asked Janette Sadik-Khan, a former New York City transportation commissioner and now principal with Bloomberg Associates, and Corinne Kisner, the executive director of NACTO, what five transportation initiatives city leaders should be focused on right now. Here's what they had to say:
Change bus boarding. "Allowing passengers to board city buses by the back door is a simple step that can prevent unnecessary contact between drivers and passengers," Sadik-Khan says, adding that "cities from Atlanta to Detroit to Seattle have waived transit fares to support the essential workers who rely on transit — and who all of us will depend on during this pandemic."
Provide critical transit service. "It's essential that transit remain reliable to bring essential staff to where they need to go, from hospitals to grocery stores," Kisner says. "Frequent service, coupled with lower ridership, allows for more distancing on each bus and train car." She adds that cities such as Boston, Chicago, and Houston provide great examples of how to set up rigorous, regular transit vehicle cleaning protocols to protect passengers and operators from exposure to the coronavirus.
Make room on the streets for social distancing. "Establishing car-free or shared streets where people can walk and exercise can help people keep their sanity while keeping their distance," Sadik-Khan says. Philadelphia and Minneapolis are some of the first American cities to provide exclusive walking and biking streets in response to the crisis. Other cities are now exploring widening sidewalks by painting expanded space and creating pop-up bike lanes to provide more transportation options.
Make bike share a front-line transportation option. Boston, Chicago, and New York are offering free bike share access for health care workers, providing a safer route between home and work. "At a time when many people are doing their part by staying at home," Kisner says, "it's critical that essential workers have safe, reliable mobility options so they can get where they need to go."
Change parking regulations. "Instead of being occupied by parked cars all day, the curbside can be converted into active food pick-up zones — for take-out meals outside restaurants and for grab-and-go student meals outside schools," Sadik-Khan says. Seattle, Honolulu, and Raleigh are already doing this and demonstrating how it can help cities support local restaurants while minimizing contact.
NACTO will be continually updating its website with rapid response tools for cities, webinars, and technical assistance on emerging issues, and information about emergency federal funding. City leaders can email covid19 [at] nacto.org with questions, requests for resources, or to contribute information from your agency to the new Transportation Resource Center.
Get the City Hall Coronavirus Daily Update. Subscribe here.