Coaching Israeli seniors to be more safe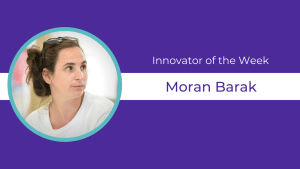 June 30, 2021
Name: Moran Barak
Title: Service designer
City: Jerusalem
How do you convince seniors to let strangers come into their home to offer safety tips in the middle of a pandemic?
You make it as easy as possible for them; and you let them tell you how to make the process work.
That's the advice from city of Jerusalem industrial designer Moran Barak, who leads a project aimed at installing safety kits in the homes of Jerusalem seniors to cut down on dangerous falls and also help the elderly be more active in a large and sometimes difficult-to-navigate city.
Barak launched the project—a key priority for Jerusalem Mayor Moshe Lion—with a prototyping process last August. A key insight from that work: the need to alert seniors to the service through communications channels that they actually use, such as radio, newspaper, medical offices, and word of mouth in their communities. Social media was reserved to primarily urge children and grandchildren to encourage their elders to participate.
The program launched last December, offering seniors a free, 90-minute home visit in which a trained technician would help them install items from the kit, which includes items such as safety handles for the bathroom, a smoke detector, and an emergency light that is usually put at the senior's bedside.
Just as important as the actual items in the kit, Barak said, is encouragement during the visit to explore safe parts of their neighborhood and making the client aware of opportunities for them to connect with other people.
The kit is "a special gift that we give people so that they feel a lot more safe at home," Barak said. "But if we can also encourage the really simple act of someone leaving the house and going to do something active, even if it's just to play cards at the local community center, that's a big win for us."
In six months, the program has enrolled 3,100 houses, which puts the Jerusalem team ahead of their goal of hitting 24,000 homes within three years. And while Barak said it's too early to get data on the impact on seniors' falls and visits to the emergency room, she's confident that the program will hit its goal of reducing falls by at least 10 percent. Already, the national government of Israel is interested in taking the project nationwide.
Pro Tip: "Go listen to what people need, what people want, and how they want to get it. Before doing things, go and ask."