​
City Data Alliance pushes data-driven government to new heights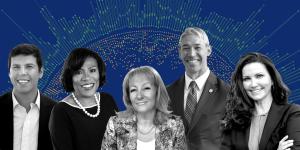 Six months ago, 22 mayors from across the Americas kicked off their participation in the Bloomberg Philanthropies City Data Alliance with an in-person convening in Baltimore. Their shared mission: To show what local governments can achieve when they expertly use data to tackle their toughest challenges. 
Since then, the mayors have participated in exclusive learning sessions aimed at building their leadership skills around using data. Meanwhile, their senior teams are getting coaching and consultation, as well as receiving technical assistance around critical data capacities such as performance management, procurement, evaluation, and data as a service.
While the work in these cities is far from over, they are making big gains. All are building something few city governments have—a citywide data strategy—while developing detailed plans for training municipal workers at all levels to use data in their work. These and other policies are getting hardwired into local codes. 
"In the City Data Alliance, mayors and their teams are making systemic changes to ensure that data-driven decision-making is the norm," says Florence Juillard, who leads Bloomberg Philanthropies' data programs. "They're changing the culture in city halls in ways that will endure."
We asked five mayors to reflect on what they and their teams are accomplishing and learning through the program—and why other mayors should follow in their footsteps by joining the next round of the City Data Alliance. 
Here's what the mayors had to say.
All cities in the City Data Alliance are developing something not many local governments have: a citywide data strategy. In Baton Rouge, Mayor Sharon Weston Broome says the new strategy will be critical to expanding efforts to open city data to the public, and "improve our work with data and analytics for years to come."
In particular, Weston Broome is focused on working with department leaders to leverage data to identify and fill gaps in city services. "This will help us ensure we are serving every neighborhood, every demographic, and every facet of our community to the best of our ability," she says.
"Working with the City Data Alliance, fellow mayors, and my senior team has been invaluable in sharpening my vision for a data-driven Baton Rouge and the role I play in that effort," Weston Broome continues. "The Data Alliance continues to provide highly specific training, resources, and guidance for how to make our visions a reality."
Lesson learned: "We cannot truly improve how our municipal government services our community if we are not able to identify our strengths, recognize our weaknesses, and use this information to strengthen our operations."
[Read: 22 Mayors join City Data Alliance to chart new frontiers for data-driven government]
Through the City Data Alliance, Renca has created a strategic support unit to provide a clear picture of how the municipal government is performing relative to its goals. Additionally, Mayor Claudio Castro says, "the creation of this unit has allowed us to incorporate in our work previously collected data for different topics such as employment surveys, value chain studies, and local greenhouse-gas emissions—information that is not common to have at the local level."
Senior staff in Renca are being trained in how to evaluate existing programs, with the goal of making these evaluations part of how local government does business. "We are certain that being part of the Bloomberg Philanthropies City Data Alliance will mark a before-and-after moment in how Renca collects, manages, and shares the data that allows for better performance and enables greater well-being for our residents."
Lesson learned: "Having local, reliable, and well-organized information facilitates collaboration with different actors who want to be part of the development of the city, such as the private sector, central government, and international organizations." 
[Read: Leading confidently with data: 3 steps for every city leader]
Mayor Ron Nirenberg says data has a big role to play in boosting the supply of affordable housing in San Antonio. The city recently made it easier for residents to build small "accessory dwelling units" on their property. Now, as a result of the City Data Alliance, a team of senior city staff from across various departments is in place to ensure the city collects and uses data on the new policy. "I view this as a necessary practice to establish a culture of cross-department collaboration," Nirenberg says. "It will result in more efficient data collection routines, enhanced data quality, and improved outcomes for our residents."
Nirenberg hopes to leave a legacy of transparency and accountability, and he believes the work he and his staff are doing will advance that. "As we improve our data systems and the way we report progress, the Bloomberg City Data Alliance has reinforced the benefit of keeping the community at the table throughout implementation," Nirenberg says. "Democratizing the data is critical to ensuring that we are not in an echo chamber of City Hall, hearing and seeing what we want to see out of the numbers on program progress. Rather, we are forced to continue reevaluating our practices and setting new expectations based primarily in the communities that are most affected by our programs and services."
Lesson learned: "Priorities such as housing affordability, homelessness, and workforce development rarely fit neatly into the work of a single city department. Leveraging our leadership to support the establishment of a data-driven culture that values uniform data standards and streamlined collection processes can usher in the cross-agency collaboration that is necessary to address the systemic issues all cities face."
[Read: How mayors can build a city workforce that uses data to deliver results]
Mayor Sandra Masters and her team in Regina are tackling a common problem in local government: Data tends to be siloed within individual departments. That's changing, through her participation in the City Data Alliance, as a new Data Governance Committee and a beefed up Data Center enable more data-sharing and problem solving across departments. "We believe a more accessible, centralized source for data will provide employees a clear line of sight from the work they do to the residents' experience with the city," Masters says. 
Masters is clear about why this matters: It delivers better results for Regina residents. "Anything less than sharing and showing how the city works for the people of our community and identifying where we need to be working for opportunity, equity, and inclusion, will be a failure to me," she says. "Having the support of the City Data Alliance has allowed me to maintain discipline and patience in the implementation of a data culture, and allowed administration to take the necessary steps, create the building blocks, and to show and tell the story of the great work they do and where improvements need to be made."
Lesson learned: "Those moments where connections are made about how one set of data intersects with another to provide insights are magical and very empowering. You'll find data champions everywhere if you stick with it."
Mayor Carolina Cosse says Montevideo's participation in the City Data Alliance has teams from across City Hall working closer than ever on solving problems. Procurement is a big focus. The city is looking at contracting for trash pickup in a way that also creates work opportunities for marginalized communities such as those who have formerly been incarcerated.
The program has also sharpened her city's focus on how to make a difference in residents' lives. "It has helped me to work with my teams to deepen the meaning of data," Cosse says. "For example, in the area of health, the data we collected was related to the workload, when the focus should really be on how we are measuring people's health status."
Lesson learned: "We never know what the data is going to tell us."