Can college towns avoid being COVID towns? That's their plan.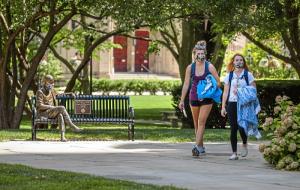 September 2, 2020
As colleges and universities across the country begin a most unusual fall semester, the cities and towns surrounding these institutions have a lot at stake.
In those places where higher ed has gone mostly or entirely online due to COVID-19, local economies are suffering as coffee shops and pizza joints normally stuffed with students sit empty. And in those where students have returned for in-person instruction, city leaders have another worry: Coronavirus outbreaks that could spread both on and off campus.
Then there are places like Fort Collins, Colo., that lie somewhere in between. Normally this time of year, the city pulses with the energy of more than 30,000 students at Colorado State University. This year, the school is running a hybrid model with a mix of in-person and virtual instruction.
"In some respects, it's like a normal beginning of the semester," says Mayor Wade Troxell, who also teaches mechanical engineering at the university. "The traffic and activity throughout our community is noticeably higher. What's notably different is you don't see large groups anywhere on campus. You don't see people walking between classes. People are more dispersed."
Troxell said people in Fort Collins are largely complying with physical distancing and mask wearing, a formula he credits with leaving the city better off than others both economically and health-wise. He also said the university has taken major precautions to limit outbreaks. But he knows that situation could change fast. "Our numbers are staying low," he said, "but by no means are we immune from what can happen very quickly."
[Get the City Hall COVID-19 Update. Subscribe here.]
That's something a number of college towns have already learned the hard way. Chapel Hill, N.C., is reeling after the University of North Carolina shut down in-person instruction after a surge in COVID-19 cases. In South Bend, Ind., the University of Notre Dame is restarting in-person classes this week after a two-week shutdown prompted by a coronavirus outbreak. Ames, Iowa, and Grand Forks, N.D., both home to major universities, also have seen outbreaks. (The New York Times is tracking campus outbreaks across the U.S. here.)
In Tuscaloosa, where the University of Alabama is located, more than 1,000 students and faculty tested positive for COVID-19 less than two weeks after classes began. The city has shut down bars and suspended bar service at restaurants for two weeks, in hopes of preventing a wider outbreak that could shut down the university and its $2 billion economic impact locally. "The truth is, fall in Tuscaloosa is in serious jeopardy," Mayor Walt Maddox said last week.
While local leaders don't have a direct say in how colleges and universities operate, they're finding ways to influence the back-to-school conversation.
For example, in Washington, D.C., several private universities abandoned plans to bring students back to campus after Mayor Muriel Bowser ordered residents from coronavirus hotspots to quarantine for 14 days upon arrival. Both Georgetown and American universities cited the quarantine requirement in explaining their decisions to shift to online-only instruction.
In Richmond, Va., Mayor Levar Stoney asked that the leaders of four local colleges require students to download the state's contact-tracing app on their smartphones. While the schools haven't made it mandatory, Virginia Commonwealth University and the University of Richmond are encouraging students to use the app.
[Read: Cities try 'learning hubs' to keep kids on track with online school]
A number of cities are leveraging their influence over students' off-campus conduct. Burlington, Vt., Newark, Del., and Normal, Ill., are taking aim at house parties by passing limits on the sizes of gatherings at residences. Burlington also has moved up closing time at local bars to 11 p.m.
In addition, Burlington Mayor Miro Weinberger has been working closely with officials at the University of Vermont to make sure the city's concerns about bringing students back to campus are heard. As a result of those conversations, Weinberger said in a video on Facebook, the city will get data on results from the university's COVID tests in real time so that local leaders can monitor trends closely. The university also will help the city pay for the police department's COVID education and enforcement efforts.
"College life this fall must be different than it is in normal times," Weinberger said. Like much of Vermont, Burlington has kept the virus largely in check so far, and with students coming in from all across the country, it will take vigilance to keep it that way, he said. "We know that if we wait for positives to start showing up in the testing, that we may have already missed our best opportunity to keep the very low levels of virus transmission in this community contained."
Ultimately, the hope in college towns across the country is that they can both keep the virus in check — and, by doing so, can reopen their communities in a way that eventually allows students to once again enjoy all the things that have traditionally kept these towns afloat: graduation ceremonies, homecoming parades, and football games, and so much more. And although city leaders don't have a direct say in on-campus actions, those in Fort Collins, Burlington, Richmond, and many others are finding ways to make sure their voices are heard.