Building a sandbox for innovation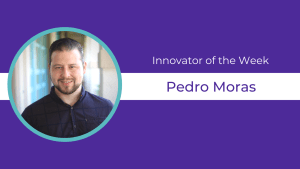 August 11, 2021
Name: Pedros Moras
Title: Innovation Strategist 
City: Boca Raton, Fla.
The city of Boca Raton has a long history of innovation—it's housed major operations of IBM and Siemens and is famed for being the place where IBM created the first personal computer and smartphone.
 
But Pedro Moras, a strategist in the city's Office of Innovation, wants to ensure that the city is not just seen as an entrepreneurial incubator in decades past, but in the present and years to come.
 
Moras, building off a background in the private sector and innovation training offered through the Bloomberg Harvard City Leadership Initiative, is working to transform Boca Raton into a technology hub in which government is not just an investor but a partner and facilitator that creates a climate for success.
 
"A lot of what I've been focusing on is leveraging the work we've done with Bloomberg on how we build an ecosystem that's interconnected," Moras says. "What kind of systems do we need to build? What are the relationships? How do companies interact?"
 
A major vehicle for answering those questions is Boca Raton City Lab, an "innovation and resilience hub." The idea is to create an inclusive space that allows Boca Raton entrepreneurs to communicate with and learn from each other. "Our technology players are all doing really interesting stuff but there is an opportunity to create a better-connected ecosystem," Moras says. BRCL will have an early-stage incubator, a specific commitment to working with residents from underserved communities and a tech showroom that showcases innovative projects being developed by the city and community.
 
"We see this as creating a United Nations of our ecosystem that serves as a catalyst that will transform Boca Raton into a sandbox for innovation," Moras says.
 
Moras says efforts to fund the multi-million dollar project are coming along well, with the hopes that more concrete details can be announced in coming months. In terms of governance, BRCL would be a public-private partnership with seed money from government, private sector and academic partners at launch, but with the goal of becoming self-sustaining over time.
 
"We looked in the mirror and thought, how do we create something that is collaborative and has the ability to evolve and is flexible," Moras says. "Through the Bloomberg Harvard Innovation Track, we took the time to really listen to our tech community and better understand what they need to create something that will truly move the needle.
Pro tip: "The key to developing impactful solutions isn't to just understand the root of the problem, but also understand what it means to stakeholders and then co-develop the solution. You're never going to build the best solution by working in a silo."