Building connections between neighbors and among cities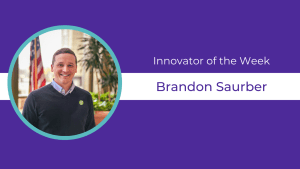 March 23, 2022
Title: Director of Neighborhoods
City: Hamilton, Ohio
In Hamilton, the Love Your Block program strengthens social bonds between neighbors by bringing them together to clean up front porches and yards. And as Brandon Saurber has found, the program also tightens professional bonds between city leaders.
In fact, it was by networking via Cities of Service with colleagues in South Bend, Ind., that Saurber learned of a solution to a problem the two cities had in common. Block cleanups require rakes, shovels, vests, gloves, and other equipment. To store those items, South Bend invested in a tool trailer (branded "Mend the Bend") that could be moved from one cleanup site to another. Hamilton borrowed that idea and now has "The Cube," which residents can reserve online. Last year, it was booked out almost every weekend from May through October.
"It's been a smashing success," Saurber says. "If you want to host a neighborhood cleanup, we bring everything to you, including a cooler of ice water. We're trying to make it easier for people to not only pick up trash but build those connections by working together to improve their community."
In Hamilton, a historic city of about 60,000 not far from Cincinnati, these efforts weave perfectly into a robust resident engagement strategy Saurber has helped to build. The work is spearheaded by a resident-led advisory board known as "17 Strong"—the reference is to Hamilton's 17 neighborhoods. The city allocates $50,000 a year to 17 Strong to disburse microgrants of $500 to $2,000 for neighborhood improvement projects. It's a successful model that other cities have reached out to Hamilton to learn from, Saurber says.
Lately, Saurber has been working on developing ways to measure resident engagement in Hamilton so that it can be tracked and managed. He's thinking about engagement along a five-point spectrum from passive activities such as keeping up with local news to more active forms of engagement like volunteering or leading community events. His hope is to get more residents onto that spectrum, and to bring them along into more and more active roles.
"When you look at the whole of human history, the reason we're the predominant species on this planet today is not because we're the biggest, strongest, or have the sharpest teeth — it's because we've evolved to work collectively to solve problems," Saurber says. "Ultimately, that's the only way will solve the toughest problems we face as communities, as nations, and as a world is by working together."
Pro tip: "Look for opportunities to let residents be out front to lead."