​
Big lessons from a small city on borrowing—and building upon—an idea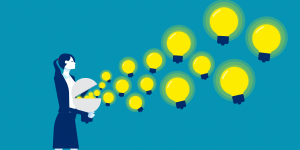 Public-sector innovation thrives when cities learn from each other, build upon one another's successes, and, in doing so, reduce the time and risks involved in adopting proven ideas. But the effective replication of already-winning ideas isn't as simple as it might sound. It requires both a strategy to uncover great ideas and the know-how to adapt and implement them to ensure they best meet the needs of the city. 
These are some of the elements at the core of a blossoming effort to replicate Stockholm's Biochar Project, a winner of the 2014 Bloomberg Philanthropies Mayors Challenge. The project turns plant waste into a product, biochar, that solves several problems at once: locking up carbon in ways that prevent it from accelerating climate change and, when mixed with soil, soaking up storm water and helping trees grow stronger and taller.  
Seven cities are now building upon Stockholm's innovation with the help of Bloomberg Philanthropies. They include Helsingborg, a Swedish city of 100,000 that hasn't just embraced biochar, but is taking the idea to the next level. (The other cities include Darmstadt, Germany; Sandnes, Norway; Helsinki, Finland; and Cincinnati, Lincoln, Neb., and Minneapolis in the U.S.)
Helsingborg is both building a biochar plant, which will produce five times the product that Stockholm does, and creating a research, innovation, and experimentation hub aimed at advancing the emerging biochar industry in even more cities. "Even though we are a small city, we can dare to challenge and test," says Helsingborg Mayor Christian Orsing. "It's important for cities to reach out to each other, to learn from each other, and—I say with humor—steal from each other. And to do it with pride."
The work in Helsingborg shows a path for governments to benefit from idea replication. Here are three lessons city leaders everywhere can learn from this effort. 
Finding a good idea.
Local governments have the potential to solve big problems, yet they don't always marshal all the resources at their disposal to do so effectively. One of the greatest resources cities can leverage to find new ideas is its people—residents, business leaders, or other city employees—who, by sharing their unique experience and perspective, can help local leaders think out of the box in order to co-create pioneering solutions. 
Stockholm's effort didn't start with the innovation office, but with Tree Officer Björn Embrén, who brought the idea to city leaders when he realized the charcoal he was using "was something special." Similarly, it was landscape architects in Helsingborg—who knew of Stockholm's success using biochar to boost the canopy of street trees—who first tipped off their local leaders to the idea. 
Another approach to finding ideas is to look to exemplar cities for ideas. These can provide not just inspiration, but also lay a foundation to understand what may work, what may require further testing, and what may need adaptation for success in a new context.
In Helsingborg, leaders didn't have to start from scratch to see if biochar was a good idea, because they could look to evidence out of Stockholm that already proved it was. Helsingborg was also able to draw upon their innovation muscles and experience to know what to do next. After supplementing the data out of Stockholm with their own research into using biochar to stabilize contaminated soil, they had all the evidence they needed to invest.  
The successes in Stockholm were critical to those in Helsingborg, according to Mattias Gustafsson, a consultant who worked with Stockholm and is now helping other cities replicate that work. "Cities need to have their showcases, because this is a totally new way of thinking," he says. "We need forerunners to show that this works." 
Replication isn't a cut-and-paste operation. 
Cities are alike in some ways and different in others. Copying what you can of an idea, and adapting in other ways, is integral to innovation. At the same time, it's important to keep a balance between that iteration and efforts to maintain the fidelity of the core concept, as straying too far from the central tenet of an innovation can lead to the decrease of its impact over time.
The work in Helsingborg, for example, still has many similarities with that in Stockholm. Both cities have a municipally owned utility that's well positioned to lead the effort. Both cities are using park and garden waste to make biochar. And both have district heating systems that can use waste heat produced in the process. 
Helsingborg also demonstrates how city leaders can think differently about the outcomes an innovation can produce for their community. Central to the city's mission is experimentation for new uses of biochar. To that end, one-third of the biochar produced in Helsingborg will go toward research and development for new products that can be made from biochar. One project on the books will look at using biochar to produce climate-neutral concrete. Another potential experimental use is to replace coal with biochar in steel production.
Cities are critical to—and can benefit from—the spread of ideas.  
First-mover cities aren't the only ones that play an important role in the spread of innovation. Second- and third-movers, by adapting and improving the idea, will better fuel efforts in next-generation implementing cities. And any city that positions itself as an expert in an innovation has the potential to become a center for research and testing that both garners recognition and can drive economic development and growth.  
That's exactly what's happening in Helsingborg, where leaders are making their advances in the biochar industry part of an economic-cluster strategy. Central to that plan is a new testing facility to explore new ways of producing and using biochar. 
One test that's already slated: How to make biochar from seaweed, which is something Sweden has plenty of along its 2,000 miles of shoreline. The city is also looking to recycled wood and sewage sludge as potential sources. "This is a service that we will offer within the project to whoever wants to come here and be part of this," explains Eva Stål of NSR, the waste management company owned by Helsingborg and five other municipalities that is building the facility. "We want to promote that because the market is being developed as we speak." 
Another part of Helsingborg's strategy is to connect municipalities, academics, and the private sector into an industry network and learning community. Next week, hundreds of these stakeholders will convene in the city for the first global biochar summit. The city also has turned an old factory into a knowledge center where people from around the world can go to learn about biochar and its uses.
Through these efforts, Helsingborg is providing a new model for how cities can showcase physical innovations. Already, more than 1,000 people have visited the knowledge center and NSR's Stål says that will grow substantially. "The ambition," she says, "is to have a lot of visitors here, including everyone from companies and academics to service groups and schools." That puts Helsingborg at the center of the community of practice for biochar and sets an example for how other cities can position themselves as leaders.