​
Analysis: How global cities are raising their cycling infrastructure ambitions
Global cities are rethinking their relationship with the bicycle. An analysis of applications submitted for the Bloomberg Initiative for Cycling Infrastructure (BICI) shows how.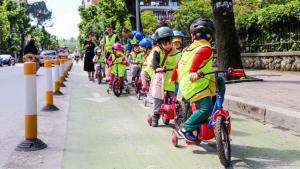 While cycling lanes have been essential infrastructure in many cities for some time, an analysis of applications submitted by 275 cities from 66 countries for the Bloomberg Initiative for Cycling Infrastructure (BICI) shows that an ever-widening group of global cities are viewing it as a fully-fledged piece of the mobility puzzle. 
"It's clear that local governments from all over the world advocate cycling as a way to provide safer, healthier, more equitable, affordable, and accessible options for people to move around," said Skye Duncan, executive director of the Global Designing Cities Initiative, which is partnering with Bloomberg Philanthropies on BICI. 
The applications show how these cities are thinking of cycling infrastructure investments not just for the environmental benefits that can be delivered, but as central to transportation ecosystems, right alongside cars and other forms of public transit. 
Here are four ways that global thinking about future cycling infrastructure investments is evolving, as reflected by the ten winning cities.
Creating new benefits and efficiencies for residents
As a whole, the applications showed global cities are now including cycling infrastructure in their policy and planning processes. When asked how they have addressed challenges such as motor vehicle dominance, unsafe roads, and low resident uptake of cycling in the past, at least one in three cities talked of developing strategic plans or creating dedicated task forces.  
While cities may have entered the planning process thinking of cycling as a greener and healthier alternative to motorized transport, one in five applicants want to establish it as a preferred mode of transit. In the Kenyan city of Mombasa, where 45 percent of all residents walk to commute, it is hoped that a protected cycling network will improve safety for current cyclists, and encourage more cyclists to take to the streets and even cut commuting time. Meanwhile, Quelimane, Mozambique, where 35 percent of residents already use bicycles to travel, plans to improve maintenance of traffic lights, signals, and other street design measures to allow for safer and easier transitions from walking to cycling. 
Pimpri-Chinchwad, India is showcasing how cycling can be paired with other innovations to make living in a city more convenient for residents. The city's "Harit Setu" (green connectivity) Master Plan is focused on improving connections between residential, commercial, and other properties. Cycling lanes will underpin a pilot "15-minute city" project, where residents can access most amenities within a short cycle ride. 
Linking historically disconnected communities
More than half of the applicants proposed ideas that would fill gaps within existing cycling networks, often connecting excluded communities to schools, jobs and social networks. Cycling infrastructure was viewed by some cities as an investment into local equity, allowing residents cut off by rail tracks or highways to safely access education, work, or recreational opportunities. Cycling can also act as a uniquely affordable and quick-to-implement mode of transit to bridge gaps between communities. In the winning city of Lisbon, Portugal, for example, new infrastructure will be rolled out with the intention of encouraging more children, youth, women, and older residents to ride.
Increasing road safety for young people 
When asked about what challenges motivated their projects, around a third of the applicant cities pointed to improving road safety as an important focus, and many are now embedding cycling infrastructure in their planning to make roads safer. Forteleza, Brazil, for example, has ambitious plans to build out 180 km (112 miles) of protected lanes to create a city culture where safe cycling is the norm, while Addis Ababa, Ethiopia, will double its protected cycle tracks to create Africa's largest city cycling network. 
Road crash injuries are a leading cause of death for children and young people worldwide and applications showed how this issue is top of mind for a number of global cities. For its winning project, Milan, Italy, plans to connect 40 schools through a cycling network, providing a convenient and safe route for students to commute. Another approach is that of Tirana, Albania, which is creating an all-ages cycling network by redesigning intersections to be safer. 
Meanwhile, Bogotá, Colombia, has identified a highly motorized neighborhood where a large proportion of residents feel endangered by speeding vehicles. Here, the city will co-design new cycling infrastructure in partnership with children, ensuring that their sense of safety and well-being is at the forefront.
Delivering infrastructure that meets local needs  
Cities are centering residents in the design and implementation of cycling facilities and the applications affirm how cities around the world are engaging communities to share ideas and voice concerns as well as working with local cyclists to test and iterate on designs. This approach is putting cyclists, would-be cyclists, and all who move around a city at the heart of the process. 
Bogotá's approach is just one example of these efforts. Another is in Wellington, New Zealand, where the city council is co-creating and seeking input from the indigenous community in their winning project's implementation to ensure their needs and stories are reflected in future cycling networks. These efforts are setting a new norm of inclusivity to design and build cycling infrastructure in a way that aligns with residents' perspectives.