​
Banking on the success of minority-owned businesses in Minneapolis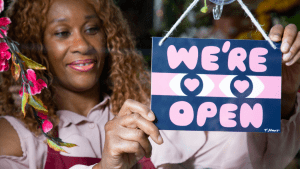 As Minneapolis steps up its efforts to promote racial equity and fight systemic racism in the wake of George Floyd's killing, a small but promising bright spot is emerging in the city's quest to help minority-owned businesses access the loans they need to thrive.
A new nonprofit lender, Fortis Capital, has launched in Minneapolis aimed at boosting business loans to people of color. With $2.5 million available to lend, the startup is on the verge of closing its first loan.
Brian Smith, the chief innovation officer for Minneapolis who also runs Fortis Capital on a volunteer basis, said the new nonprofit will fill critical gaps in the local lending ecosystem, allowing minority-owned businesses to access capital at reasonable interest rates. Ultimately, the goal is to see those businesses create jobs and wealth in North Minneapolis and other historically disinvested neighborhoods.
The initiative is an innovative local effort to fix a problem that exists in cities across the U.S. According to a 2019 national survey of small businesses by the Federal Reserve Bank of Atlanta, only 31 percent of Black-owned firms and 35 percent of Hispanic-owned firms received approval of all financing they'd applied for — compared with 49 percent for applicants of White-owned businesses. And that survey came before the COVID-19 pandemic triggered an economic collapse that has taken a disproportionate toll on minority-owned small businesses.
The seeds of Minneapolis' new approach were planted more than four years ago. That's when the innovation team Smith runs — it's an in-house group of City Hall consultants initially funded by Bloomberg Philanthropies — began looking broadly at the challenges faced by small and minority-owned businesses. Their research was guided by deep engagement with 200 residents, entrepreneurs, lenders, and other community members. And it identified access to capital as one of four problems in need of innovative solutions.
It turned out to be one of the most difficult areas to change. "We can't control what the banks do," Smith said. But as he and his team dug deeper into it, they found levers they could pull on.
One was an existing city program that offers small businesses loans of up to $75,000 at the very low interest rate of just 2 percent. There was a catch, however, and for minority-owned businesses it was a big one: In order to access the 2-percent loan program, businesses needed to have already lined up a matching loan from a private lender. And that's exactly where these businesses were hitting a roadblock in the first place.
Smith joined forces with Jim Terrell, a former banking executive and now a manager in the city's Planning and Economic Development Office. They weren't able to change the rules on the 2-percent loan program, but they were able to find ways to leverage it from outside government by setting up Fortis Capital as a new local lender in the Minneapolis market. Smith serves as Fortis' chief executive officer and Terrell serves as chief operating officer.
Here's how it'll work: Entrepreneurs of color will go to Fortis for that initial loan. Then, if they qualify, they can turn around to claim the matching loan from the city. "If we approve you for $50,000, now the city has to give you the other $50,000, if they have it, at 2 percent," Smith said. "So now you have a person who — if they could even get a loan from the bank, would have been hijacked at an interest rate of perhaps 14 percent. Let's say our rate is 8 percent and the city's is 2. That's a blended rate of 5 percent which is unheard of for people others don't want to take a risk on and lend to."
Fortis is set up as a revolving loan fund — so any interest the nonprofit collects from borrowers will go right back into more loans for minority-owned businesses. Currently, its maximum loan amount is $250,000. The plan is to act as a "participation partner" with other banks, sharing the lending risk with another lender who can take care of all the loan processing paperwork.
[Read: How Minneapolis used vacant buildings to boost business equity]
Smith and Terrell's model got the attention of Living Cities, a collaborative of foundations and financial institutions focused on closing racial income and wealth gaps. Living Cities seeded Fortis with a $2 million loan to get started. Smith and Terrell convinced city leaders to pitch in another $500,000, which came from unspent funds from the 2-percent loan program. They're aiming to raise another $2 million in capital this year and $10 million more next year with the help of Living Cities and their partners.
Fortis is currently putting the finishing touches on its first deal, a loan to help a general contracting company owned by a woman of color finance a shelter for people experiencing homelessness that will be connected to housing for residents with low incomes.
While some of the work in Minneapolis is particular to the local context, Smith said there's lessons every city can take away. One is the importance of forging deep relationships with the community. The work the i-team put into engaging residents, lenders, business owners and potential business owners early on helped them zero in on capital access as a problem and jumpstart the conversation about solutions. "Our innovation process helped us figure out exactly what it was that business owners and potential business owners needed from the city in order to be successful," Smith said.
At the same time, those relationships helped build a constituency for change, and is part of what inspired Living Cities to invest in Minneapolis, Smith said. "Building authentic relationships with people in the community, whether that's other lenders, nonprofit organizations, residents, business owners and potential business owners, matters a lot," Smith continued. "Anybody who's leading this in another city has to have those relationships. And they have to prove there's a need just like we did. It's just putting those pieces together."