Athens innovates to tackle migrant crisis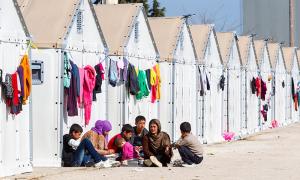 October 17, 2017
Athens was a winner of the 2014 Mayors Challenge with its plan for synAthina, an idea that responded to the Greek financial crisis by supporting and leveraging residents' desire to pitch in. Three years later, it is so successful that it's just earned a €5-million grant from the European Union to address another critical situation: the dramatic surge of refugees and migrants entering the country.
Part of the EU's Urban Innovative Actions initiative, the award supports of Athens' "Curing the Limbo" plan, one of 15 proposals selected from the 206 submitted by 21 EU states. Curing the Limbo aims to use synAthina to empower refugees and migrants — more than 22 arrive in Greece every day — as they build their new lives in the country.
"SynAthina is already a place where a lot of stakeholders are coming together to deal with problems," said synAthina Program Manager Haris Biskos. "[Now] we're bringing together what was already happening and expanding our capabilities to address a new problem."
A key component of synAthina is an online platform that connects local government with more than 2,500 activists and community groups involved in — or looking for ways to — improve life for their fellow residents. In addition to helping the city provide services in the wake of the economic crisis, synAthina also has been critical to some of Mayor Giorgos Kaminis' priorities — including an effort to rid city streets of graffiti.
Athens' Cure the Limbo plan relies on a system of social exchange, where the city will provide refugees accommodation in formerly abandoned public and privately owned properties in return for refugees engaging in community service and a program of skills development. In addition, the University of Athens will help to deliver workshops to provide language and skills trainings and community groups will offer opportunities for refugees to get involved community-based volunteer work.
Although the award from the European Union focuses particularly on helping refugees, Bikos hopes this project's impact will have a bigger legacy:
"The biggest success will be if this isn't just a project that's won an award, but becomes one that creates the condition for new policies that help other people [in Athens and everywhere] who are less fortunate."