Amarillo innovator invested in city's appearance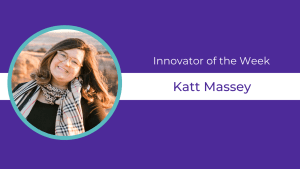 April 6, 2022
Title: Assistant to the Mayor
City: Amarillo, Tex.
Katt Massey grew up in Amarillo and her family had a landscaping business—so perhaps it shouldn't be a surprise that her main focus will soon be working to improve the physical beauty of her hometown.
Currently an assistant to Amarillo Mayor Ginger Nelson, Massey will transition in coming weeks to becoming the Beautification and Public Arts coordinator for the city, a post that draws both on her family history as well as the innovation training she and a group of colleagues are receiving through the Bloomberg Harvard City Leadership Initiative. 
The team's project is to use human-centered design to devise a process to address Amarillo's problem with illegal dumping. The work has re-emphasized to Massey that the way a city looks has a huge impact on civic culture, as well as resident pride and engagement.
"If it doesn't look pretty on the outside, what does it look like on the inside?" asks Massey. "I think that it's important for citizens to see that we're taking pride in this and hopefully that will help to break down communication barriers and reduce some of the distrust our citizens have for government."
Massey says the training program has hammered home to her team the need to stay flexible and make their process iterative. They began by focusing on one area of the city, but the feedback they're hearing from residents led them to plan for a more citywide effort.
"We've approached it as being adaptable. We have just been fluid in seeing where the process takes us," Massey says.
An illegal dumping city task force was created in December 2020 and is composed of multiple city departments such as solid waste and building safety, along with the Amarillo Police Department. The task force has already had some initial success by holding neighborhood cleanup drives, installing more surveillance cameras in areas where illegal dumping is persistent, raising the salaries for waste disposal specialists to make recruiting more effective, and looking at technological advances to make it easier for city operators to quickly identify affected areas with the push of a button.
For Massey, the illegal dumping initiative is an initial step toward a larger goal of moving all of Amarillo's residents to be as invested in the city's appearance as she is. "My family business is landscaping and so, I've grown up with the vision of a beautiful city and what keeping your city beautiful means and how that reflects you as a citizen."
Pro tip: "Let the process guide you. Be adaptable and flexible and look for where the results are."