​
Advice from an innovation leader: 'Be brilliant at the basics'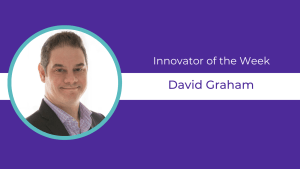 Title: Chief Innovation Officer 
City: Carlsbad, Calif. 
David Graham is a longtime leader in the city innovation movement. But he says that even as more and more cities look to use data, technology, and new ways of engaging residents to create more effective city services, he keeps coming back to the fundamentals. 
"Be brilliant at the basics," he says. 
Graham, chief innovation officer in Carlsbad, Calif., and co-chair of the Civic Innovation Executive Certificate program at the Technology and Entrepreneurship Center at Harvard University, came to Carlsbad four years ago from a series of positions in city and county government in San Diego. He says he was attracted by the challenge of making an impact in a smaller community. 
"I thought that by coming to Carlsbad, I could do some things more quickly and more agilely and demonstrate that if a medium-sized city can get something done and set a model, then cities of all sizes can do that," he says. 
Take Carlsbad's open data portal—set to launch December 1—as an example. Graham says that while some cities may have moved more quickly to offer residents access to a treasure trove of data, his priority was making sure Carlsbad's portal could actually deliver when it goes online. 
"I've spent the time doing a data inventory with my team, building the policy, getting the structures right," Graham says. "There are some fundamentals, having worked in cities for 20-plus years, that are more interesting to me than the flash bang may have been in years past. I'm looking at how do we build this for the long term in a sustainable way." 
Graham hopes to continue to build an overall culture of innovation in Carlsbad and has some specific projects to help with that scheduled to start next year. The city plans to launch a Civic Innovation and Performance Excellence Academy to help city employees hone leadership skills, as well as enlarge an existing Data Deputies program, which offers trainings in the use of data, data analytics, and data visualization. Graham hopes to ultimately open the Academy to city residents as well. 
Pro Tip:  "I hope what we've been able to do in Carlsbad is create models for other cities who can do not just what we've done but do even more."