​
Accelerating digital innovation in a city that's well known for it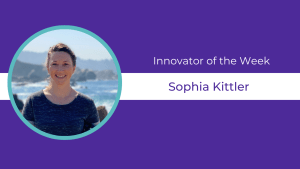 Name: Sophia Kittler
Title: Director, Mayor's Innovation Team
City: San Francisco
When the city of San Francisco launched its new Innovation Team last November, it saw a host of new possibilities—but also a chance to build on work the city had already been doing.
Sophia Kittler, who leads the i-team—one of six global cities funded by Bloomberg Philanthropies last year—sees her job as helping to focus the already robust capacities of the city's digital services and analysis departments on quick-strike projects that can show fast results.
"I think what the i-team is not trying to do is reinvent the wheel," says Kittler. Her charge from Mayor London Breed is "for this team to be able to dial in on little projects that build towards making those other two groups more successful, with the eventual goal of bringing more transparency and more resident-oriented services."
Kittler has been with the city for five and a half years, four of those working directly for the mayor's office. Before being named to head the new eight-person i-team, Kittler was the mayor's liaison with the Board of Supervisors, a position she says required constant interdepartmental coordination, a skill that's come in handy in her new position.
Breed's top priorities are homelessness, housing, and economic revitalization and Kittler said the i-team will look for entry points to try to make a difference on each of those issues.
One focus will be doing a better job of telling residents what the city is already doing, particularly on homelessness. "Where we start to think about all three of those topics is, what money are we spending? How can we spend it better? Or if we're doing a good job, how do we tell the story better?" Kittler says. "It's like a combination of designing and storytelling at the same time."
On homelessness, one entry point for the i-team will be to look closely at the processes being used by the city's service providers on the ground and look for ways to improve outcomes while also being more attentive to telling the story of the good work that's already being done. "We want to lift up the work that is being done and make sure it gets recognized," she says, "but also recognize where we have room for improvement and use the data and design process to support our nonprofits or providers to get there."
Kittler says she doesn't worry about the city's existing data and design personnel seeing the new team as a competitor. Quite the opposite. "We're a partner," she says. "I try and meet really regularly with our chief digital services officer, our chief data officer, and talk about what the mayor has asked us to do, understand what they're working on. and make sure that we are not running competing or parallel processes."
Pro tip: "Keep a close connection to the mayor's office—it gives you the opportunity to be in senior staff meetings, where you may see a policy discussion unfolding and say, hey, we can help with that."