​
5 ways cities are tackling one of their toughest Covid challenges: Homelessness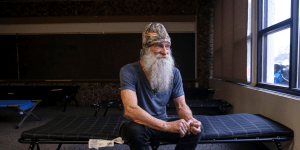 How do you comply with a "stay at home" order if you don't have a home?
That's a question a growing number of city leaders are grappling with as they ramp up responses to the Covid-19 crisis. And many mayors are taking action with breakneck speed, turning hotels and city-owned buildings into temporary homeless shelters.
The reason is simple: The homeless are among the most vulnerable populations when it comes to Covid-19. Many have underlying health conditions and live in close quarters where the virus can spread easily.
"These are extremely vulnerable populations, and solutions need to ensure that they are given all the help and safety supports that can protect them and the broader community," said Linda Gibbs, who consults with cities on homeless services as a principal with Bloomberg Associates. "The homeless are at much higher risk to themselves, and higher risk of being spreaders in the community at large."
Dr. Josh Sharfstein of the Johns Hopkins Bloomberg School of Public Health added that increasing homeless supports is necessary to help prevent a flood of patients at hospitals and a run on ventilators. In a webinar with local leaders this week, he said, "Helping people who are homeless right now is an investment in everybody's health."
[Get the City Hall Coronavirus Daily Update. Subscribe here.]
As with so many of the critical challenges cities are facing right now, this one requires that leaders take quick and careful action. Here are some of the ways mayors across the country are doing just that:
Halting evictions. With the economy tumbling and unemployment rising, Baltimore, Portland, Ore., San Jose, Calif., and many other cities are temporarily halting evictions of renters. The goal: To stop tenants who can't make rent from becoming homeless and overburdening the health care system.
Adapting shelters, acquiring new space, and creating isolation capacity. A lot of hotel rooms are sitting vacant right now. Cities like Chicago and San Diego are moving to rent those rooms for homeless people to use temporarily. Covington, Ky., Dallas, and Seattle have turned convention space into homeless shelters. Anchorage, Alaska, is using its sports arenas, Spokane, Wash., a library under renovation, and Los Angeles its recreation centers that would otherwise be closed during the crisis.
Part of the goal is to get people off the street — fast. Another reason is that cramped existing shelter spaces can't hold as many people once steps are taken to allow for people to sleep the six feet apart required for social distancing. Cities also must take into account space needs for homeless residents who require quarantine or a place to recover from infection. San Francisco has leased a number of recreational vehicles (RVs) for that purpose.
Upgrading hygiene and sanitation, and medical support. At a time when the top public-health message is "Wash Your Hands!" cities are making it easier for people experiencing homelessness to do so. Portable hand washing stations or hygiene trailers are being placed around the city in Indianapolis, Philadelphia, and Seattle. Meanwhile, San Francisco is adding janitors to step up cleaning at city homeless shelters, permanent supportive housing, and single-room occupancy hotels. And shelters in Chicago, Fort Worth, Texas, and Pontiac, Mich., are checking temperatures as people come in and screening for symptoms. These steps are critical not just for the people seeking shelter but also the staff caring for them.
Increasing meal services. Many of the volunteer-run food banks that homeless residents rely on are closed. So cities are having to get creative. Cambridge, Mass., is contracting with local restaurants to deliver 2,000 meals to city shelters. The move not only feeds people who are hungry but also helps businesses who've been hit hard by closures. Detroit is asking restaurants and bars to donate surplus food, and San Francisco is expanding meal offerings in shelters. These measures make it possible for homeless persons to remain sheltered in place rather than heading out to find food.
Stepping up outreach. Chattanooga, Tenn., San Francisco, Seattle, and many other cities are putting extra effort into homeless outreach. They're making sure people living on the streets are well informed about Covid-19, the importance of hygiene and social distancing, and the availability of expanded shelter options. They're also looking out for people showing symptoms and referring them for testing and medical treatment — and making sure safe transportation options are available for them to get there.
Find other city interventions—on homelessness and many other Covid-19-related challenges—on the Covid-19 Local Action Tracker.
ADDITIONAL RESOURCES:
CDC Guidance for homeless service providers
National Alliance to End Homelessness resources on coronavirus