​
5 secrets behind Visor Urbano's replication success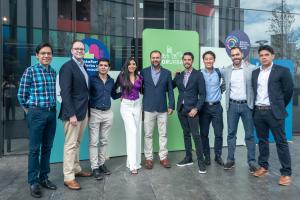 It didn't take long for Guadalajara's Visor Urbano program to become a success. The 2016 Mayors Challenge-winning plan to digitize the city's paper-based licensing and construction permitting process dealt an almost immediate blow to the city's age-old problem of government corruption, cutting bribe requests of municipal agents by 74 percent according to an independent study. 
But the platform's impact might have been limited only to Guadalajara if local leaders weren't also focused on making it a viable opportunity for other cities. Today, Visor Urbano has already been implemented in 25 cities throughout the Mexican state of Jalisco, where former Guadalajara Mayor Enrique Alfaro now serves as governor.  
Bloomberg Cities spoke to members of Jalisco's Visor Urbano team to learn some of the secrets behind their success in helping municipalities access critical new digital capabilities without reinventing the wheel.  
Visor Urbano is part of a larger strategy in Jalisco. 
Just a few years ago, it would have been impossible for many municipalities in Jalisco to use Visor Urbano, even if they wanted to. That's because their city halls lacked the broadband internet connections necessary to make the most of the software. 
Governor Alfaro addressed that deeper problem through a program called Red Jalisco, which brings high-speed internet connections into municipal offices and surrounding communities. Visor Urbano is packaged as a first big step city leaders can take to take advantage of their new digital infrastructure. 
[Read: Mexico mayors get results as a digital innovation spreads]
That formula came together perfectly in Cocula. Asked how much technological capacity his city needed to implement Visor Urbano, Mayor Miguel Ángel Ibarra said, "Very little—internet and computer, just that. Internet, we have for free through state government, and the computers, we absorb that cost. It's not as expensive as we thought it would be."
The project is led by a multidisciplinary team. 
Numerous skill sets are represented on Jalisco's Visor Urbano team, which director Christian Correa sees as one of the team's greatest strengths. 
Correa is a lawyer who had previously worked in the realm of business permitting; another lawyer on the team also helps to navigate legal matters. On the technical side, there's a software developer to keep updating the platform with new features and a GIS expert to update the program's maps and land data. The team also includes two people focused on communications, to build demand for their product by telling the story of successful implementations and reaching out to municipalities to spur interest. There's also a coach from the social-impact consulting firm Delivery Associates.
What's remarkable about the team, Correa says, is not just the various skills each person brings to the work. It's that each knows enough about what all the others do to be able to answer questions that come up and keep momentum going strong. "Daniel, the lawyer, can go to the municipality to implement some of the software needs," Correa says. "Or Victor, the developer, can implement things related to legal requirements. The communications people can go to a municipality and answer questions related to legal or software. That is very important."
Training staff is difficult—and critical. 
Free software is useless if staff don't know how to use it. The hurdle is even higher when many of the staff are accustomed to working with pen and paper.
That's why the Visor Urbano team offers such intensive on-the-ground support. Correa estimates that he and his colleagues have driven more than 3,000 kilometers to deliver 450 hours of training to more than 700 public servants. To reach local offices in Yelapa they had to drive seven hours and then take a boat.
The travel pays off. For staff, the personal touch helps to overcome jitters about using technology and changing the way they've always worked. Being there also helps the Visor Urbano team identify local champions to carry the project forward. Sometimes that's the mayor; other times it's a manager in charge of licensing, taxation, or technology, or even frontline workers.
When the initial in-person training is over, the Visor Urbano team keeps in close touch with city teams via a WhatsApp chat that is constantly buzzing with questions. Correa says that responsiveness has been absolutely critical. "It's being in touch with the public servants, via any means possible—WhatsApp, Facebook calls, phone calls. That's one of the main reasons we've been so successful in implementing." 
They're starting with quick wins. 
The version of Visor Urbano that Guadalajara developed and is using today is a multi-faceted tool. Not only does it handle business licensing, a relatively basic transaction. It also handles construction permitting, a more complex process that requires more detailed land-use mapping than many Mexican cities have at their disposal.
[Read: Guadalajara fights corruption and changes the way it's being built, one click at a time]
Most of the cities adopting Visor Urbano are starting just with the business licensing. That's the lowest hanging fruit; digitizing the construction permitting and land registry will come later.
Still, focusing on just business licensing brings big upsides. It's a major revenue stream for local governments in Mexico. Making it work really well can spur a virtuous cycle.
"We Mexicans, we're like, 'If government doesn't help me, I won't pay,'" says Néstor Emmanuel De La Cruz Macías, mayor of the municipality of Gómez Farías. "But if we ask them to pay with an easier process, they do want to pay—they're even happy about it. For a lot of years the process was really hard."
A common legal framework helps with scalability. 
Across the state of Jalisco, municipalities have a consistent legal framework around business licensing. While there are always some local quirks, generally speaking, Visor Urbano works more or less the same way in any of the state's 125 municipalities. That's enabled the platform to spread much faster than if every city had its own special way of doing the same thing.
Elsewhere in Mexico, the legal frameworks can be slightly different, but they're similar enough that cities in other states have had no problem adapting Visor Urbano for themselves. Replication in other countries may pose additional complications, but Correa thinks it's nothing that a simple software update can't handle.
In fact, keeping the software flexible and continuously updated is another part of Visor Urbano's success. The team listens closely to the needs of its municipal partners and is constantly building new features into the platform based on their feedback. It does not take technical know-how for a city's staff to customize the software around their own preferred processes or workflows. 
"The platform is self-customizable," Correa says. "Even for the small municipalities who don't have the capacity to develop code, they can just enable or disable certain functionalities. It's easy to do."